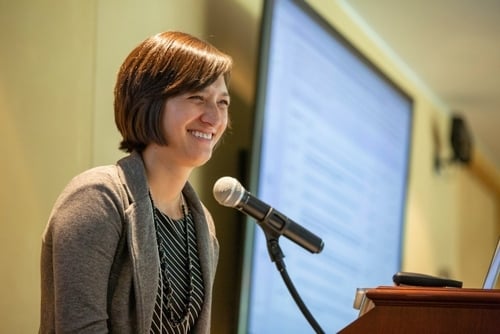 Blog
Meet Our Team: Breanna Wong, Principal, Product Design
Breanna Wong is a user-experience designer who started her journey with GivingData four years ago. She joined the company as our first front-end designer and immediately got to work putting her expertise in web design and usability to work for our clients. Her dedication to purpose-driven design has made GivingData an industry leader in user-centered design for foundations and earned her a well-deserved promotion to Principal, Product Design. Breanna lives in Pittsburgh with her husband, Dustin and two cats, Felix and Camille.
What was your journey to becoming a UX designer?
I studied graphic design in college, with a minor in Spanish. At that time, my school's graphic design program was primarily focused on print design. My first experience in web design was an internship at a web design agency in Costa Rica, which combined my two areas of study. In addition to gaining a rich cultural experience, I fell in love with the medium of the web and haven't looked back since.
Early in my career, I worked for an advertising agency where I designed websites and started learning front-end development. Later, I moved into product design and began to focus more heavily on UX. Now, as a principal front end designer at GivingData, I'm fortunate to be able to combine many aspects of what I have enjoyed in these previous roles. Though I will admit, my Spanish is getting quite rusty!
What's different about applying your UX skills to the needs of foundations?
Working at GivingData has been my introduction to philanthropy. While many of the user needs and design solutions for grantmakers are applicable in other sectors, foundations have unique workflow processes. It's been interesting to discover how foundations work -- whether it's managing day to day transactions or higher-level strategic initiatives. I look forward to learning more about philanthropy and finding new ways to address grantmakers' needs through UX design.
What's your process for translating the needs of grantmakers into a great user experience?
It starts with clearly defining their needs. It's a very collaborative process, where the GivingData team partners with our clients during an information-gathering phase. Then, multiple members of the GivingData team get involved to discuss potential approaches. I ask a lot of questions based on the user feedback we've collected, which allows us to articulate clearly the problem we're trying to solve. Once we have the problem defined accurately, it becomes much easier to design an optimal solution. From there, it's mostly a matter of assembling all the various pieces in a cohesive, user-friendly way, and continuously tweaking based on additional feedback.
What does purpose-driven design mean to you as a UX designer?
To me, purpose-driven design means delving into a stated problem beyond the way it appears on the surface. By gaining a deep understanding of the problem and the user's thought process, motivations, and desires, we can get to the heart of users' needs and provide solutions that truly solve their problems. Take grantee relationship management, for example. There are plenty of other software products that can help organizations manage contacts and relationships, but GivingData's GRM tools are specifically designed to address the needs of users in the philanthropic sector and facilitate progress toward grantmakers' social impact goals.‍
What design principle has most guided your work at GivingData?
One of my favorite design principles is to make things intuitive. When a software product is intuitive, it's easy for new users to learn quickly, and established users can focus on what's most important -- their work -- and not have to think about how to use the product to accomplish what they need to do.
You were just promoted to Principal, Product Design, which is a reflection of the outstanding work you're doing at GivingData. What are you most excited for in this new role?
I'm really excited to help guide the design direction of GivingData's products. Although my past four years at GivingData have been very fulfilling, there is still design work to be done as our products continue to evolve, especially in terms of maintaining design systems that scale along with our products. I look forward to keeping user experience at the forefront as we continue to build innovative solutions for grantmakers and grantseekers.
Sign up for the GivingData Insights Newsletter
Receive actionable insights to streamline your grantmaking processes straight to your inbox.