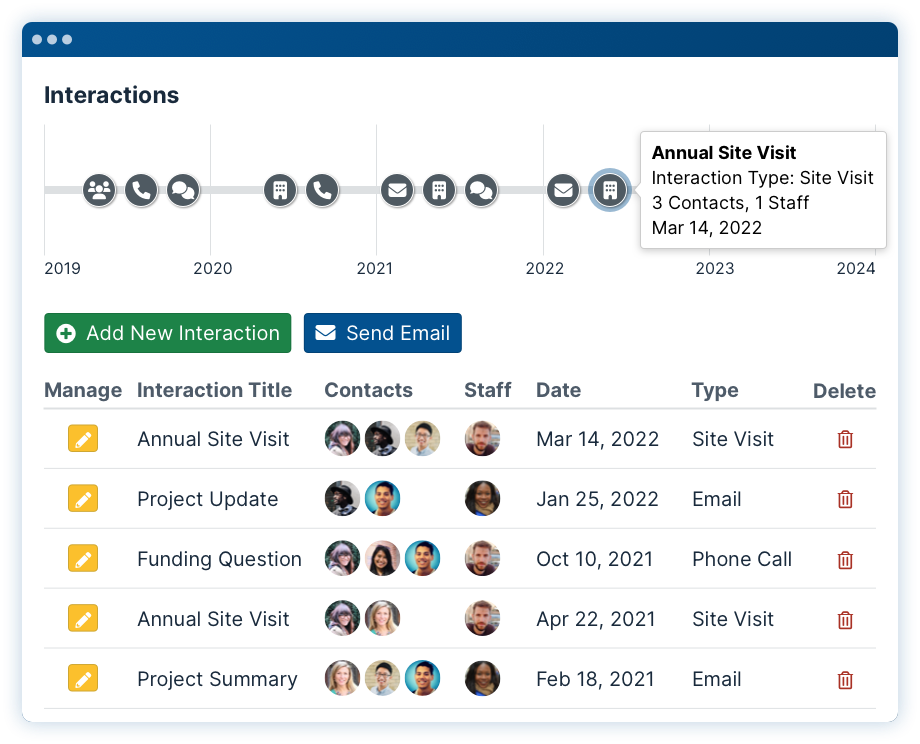 Blog
Enhance grantee collaboration with GivingData's GRM
A few years ago I was given a cool opportunity to consult for a new community foundation on a project to help the region's grantmakers leverage data in real-time to inform and prioritize their funding initiatives.
Up to that point, no one fully understood how grantmakers were using data in this way. So one of my first tasks was to validate some assumptions. I reached out to a few foundation leaders to get their take. Among them, the president of one of the state's largest private foundations.
The question I posed to her was straightforward: "Given all the competing needs in our state, can you tell me how your foundation uses data to inform your funding priorities?"
Her answer was equally straightforward: "Of course, we rely on various data, but at the end of the day, what matters most to us is relationships," she told me. "It comes down to -- do we trust the organization's leaders to deliver what they're promising."
Relationships.
That's what it came down to then, and most likely what it comes down to today.
Every funder depends on relationships to advance their mission, but few find them easy to manage.
That's a big reason providers of grants management solutions have started adding customer relationship management (CRM) features into their platforms. But it appears many continue to view CRM as a utility rather than a way for funders to fundamentally rethink how they communicate and collaborate with grantees.
In a post on PEAK Grantmaking, Sam Caplan, former chief information officer at Walton Family Foundation, put it this way: "From a technological perspective, I think what's missing right now is a focus on relationship management. Many grants management platforms start the process with a grant application. But if you speak with foundation staff, they start talking to a nonprofit organization as much as a year before that organization is ever invited to apply for a grant."
We started rethinking our own approach to relationship management more than three years ago. Together with several of our foundation partners, we envisioned a new generation of web-based tools and capabilities that could support recognized use cases that were unique to Grantee Relationship Management (GRM), with a goal to transform how foundations engage with their grantees and nonprofit partners throughout the funding lifecycle.
We've built our GRM tools to integrate seamlessly with the desktop and mobile apps grantmakers use every day. Like many of our features, these tools are purpose-driven by design, supporting funder-grantee relationships that are collaborative and conversational.
Every interaction between foundation staff and grantees is captured in the GivingData platform. This serves as both a system of record as well as an evolving storehouse of institutional knowledge that benefits everyone in the foundation.
If you're like most foundations, how well you manage grantee relationships will have a direct impact on how well your initiatives perform. For that reason, we've built our GRM tools to make collaboration and communication with grantees as streamlined and frictionless as possible.

Our advances on this front can help you reach new levels of engagement and operational efficiency in the following areas:
By capturing every grantee site visit, phone meeting and email, our GRM enables you to keep every interaction in a centralized place, eliminating the need for separate record-keeping by individual staff in separate journals and workbooks.
For Office365 users today, and for Gmail users very soon, we ensure that all email messages are seamlessly integrated into GivingData. Our intelligent sensing technology automatically ensures that every email message is associated with the correct contact, organization and grant record, eliminating the need for double data entry.


Inline discussions and collaboration in grant applications and grantee reports enable program and executive staff to extract more value from your data and use it to inform current and future initiatives.


Search features enable staff to quickly see every point of engagement your foundation has had with an individual, making it easier to make connections that enhance internal collaboration and knowledge-sharing.
The cumulative impact of these and other GRM innovations is stronger grantee relationships, widely distributed institutional knowledge, and greater insight into the lifecycle of a relationship with an organization and its leaders.
As transactional grantmaking gives way to more collaborative and conversational relationships, GRM's real value is emerging. Get in touch to let us know how we can help your foundation capitalize on that value.
Sign up for the GivingData Insights Newsletter
Receive actionable insights to streamline your grantmaking processes straight to your inbox.