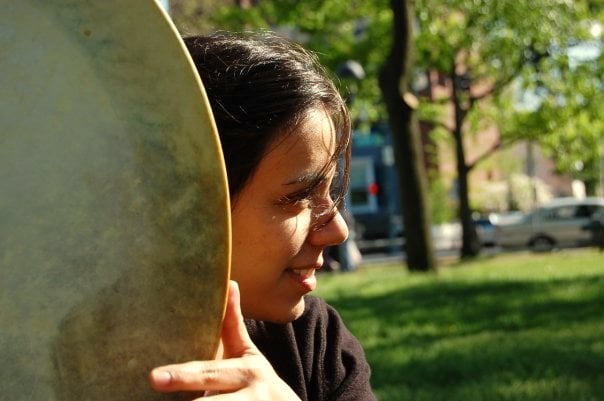 Blog
Meet Our Team: Mitra Ahi
Mitra Ahi joined GivingData just over a year ago as a software quality assurance specialist. Having spent her early career in software testing and technical support, Mitra discovered that her true passion was helping software companies deliver an awesome user experience. From the moment she entered our door, we knew she had found the right role at GivingData.
Mitra's breadth of experience enables her to always keep the needs of clients top-of-mind. She's not just great at spotting software glitches or bugs. She asks thought-provoking questions and takes extra steps to uncover the downstream implications of a software issue. She's also quick to support our client services and development teams to pinpoint key enhancements to our products and project implementations.
When Mitra isn't hunkered down tackling software issues, you'll find her playing Persian drums, notably the Daf and Tombak. She lives in Plymouth, Massachusetts with her husband, Robert, and their 3-year-old son. ‍
What was your journey to becoming a software engineer with a focus on quality assurance? ‍
I earned my bachelors in Software Engineering when I lived in Iran. In 2005, after I graduated from Murray State University, I took a position as a tech support engineer and then eventually joined Citrix as a member of its Escalation team. I enjoyed working closely with developers to provide root cause analysis to our customers. That inspired me to learn about the countless interactions between different software components at the code level. I discovered how much I enjoyed the process of testing software to reproduce user's issues. Ten years later, after a major workforce reduction at Citrix, I shifted my focus to web application testing.
‍What are the differences between working at GivingData and other companies you've work for?
I have been fortunate to work for great companies in my career. What's special about GivingData though, is that our product is being used by foundations to strengthen their impact. That gives me a great sense of satisfaction. Another highlight about GivingData is the rich culture. The company promotes mutual respect at both a personal and a professional level and values diversity. It also works hard to ensure strong communication in order to function smoothly as an entirely virtual company where everyone works remotely.
What's special about GivingData is that our product is being used by foundations to strengthen their impact. That gives me a great sense of satisfaction.
‍What inspired you to pursue your certification in front-end web development through Harvard extension? What did you most enjoy about the program?
As I gained more experience in manual web application testing, I saw the need to automate repeated test scenarios that are time-consuming, error-prone, and inefficient.
The curriculum offered by Harvard Extension for front-end web applications provided a foundation in programming languages like Python and JavaScript that can be used in test automation. It also taught me how to build and troubleshoot a web application on the front-end, which gave me insight into creating targeted test cases and performing basic troubleshooting before sending issues to a development team.
The most enjoyable and rewarding part of the certification program was working on practical projects and learning how to troubleshoot issues with the help of very knowledgeable teaching assistants.
‍You moved to the U.S. from Iran. What do you imagine your work life would be like today if you were still living there?‍
I moved to the U.S. to continue my education. Back home, I had a job and circle of friends and family, so at the time I did not have any plan to stay in the U.S. I landed a job shortly after I graduated so I decided to stay longer. If I had stayed in Iran, I think my work life would be a lot different. Immigration is very complicated. The hardest part, at least for people like me, is to accept losing one or more fundamental needs in order to gain others. Overall, I am very happy with my current work life and excited about what the future holds for me.
Sign up for the GivingData Insights Newsletter
Receive actionable insights to streamline your grantmaking processes straight to your inbox.