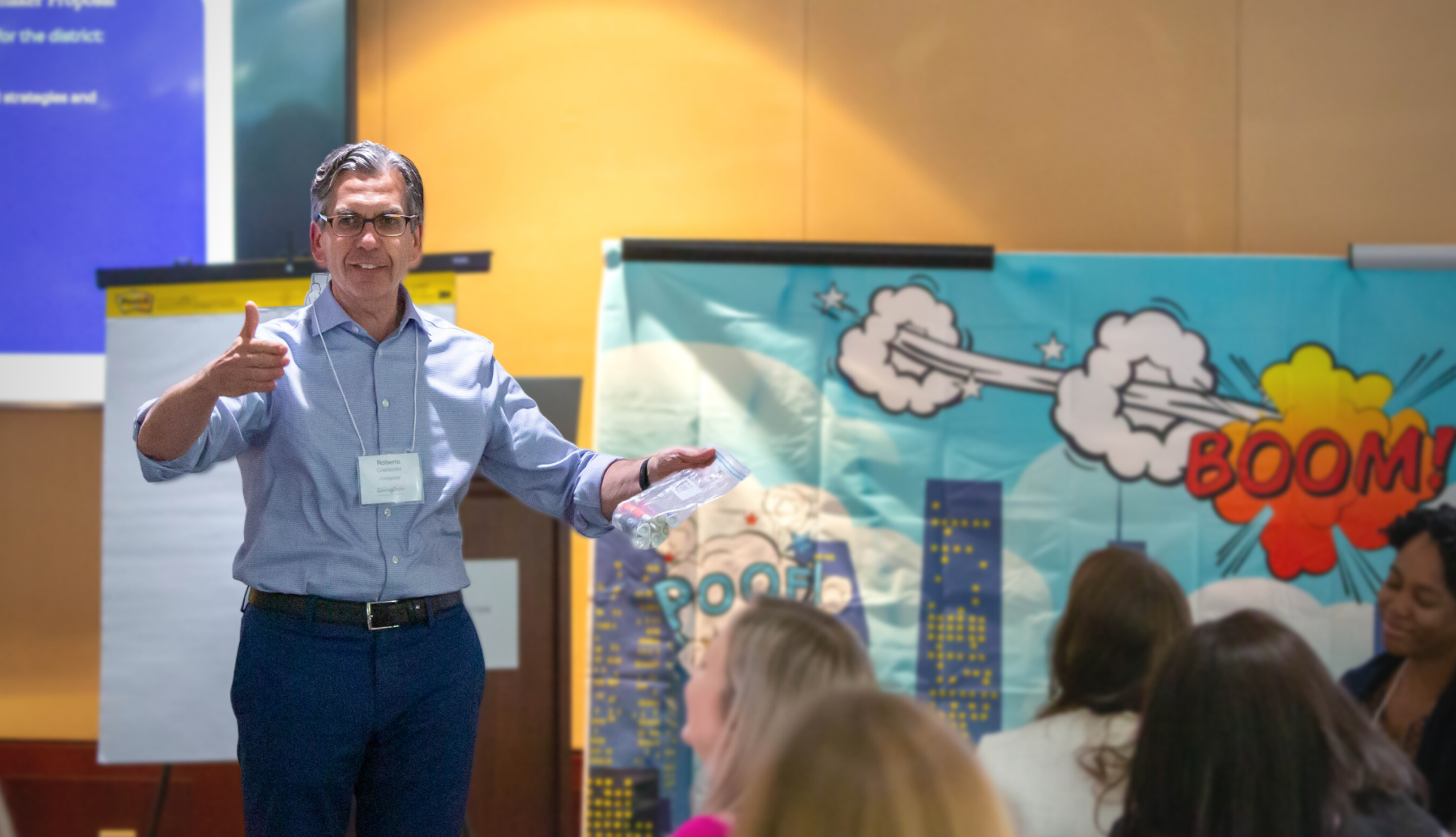 Blog
Roberto Cremonini on His New Role and Goals to Spark Innovation and Impact
After leading GivingData's business development efforts for three years, Roberto Cremonini recently transitioned into the new role of SVP, Client Innovation and Impact. We took this opportunity to ask Roberto about his journey so far and where he sees his work taking him – and GivingData – in the future.
How did your background lead you to GivingData?
To be honest, I feel that I've always been with GivingData, at least as long as GivingData existed.
The idea of developing a new grants management software came up in 2007 while Alf Gracombe and I were working on a project together to create a new grantmaking dashboard for the Barr Foundation. Alf walked into my office one day and said: "Foundations need a better grants management system. I want to start a company to build one. What do you think?" I smiled and replied "Forget about it. There's no room for another GMS and you would get bored trying to build one."
Fifteen years later I can admit I was wrong. There was plenty of need for a better GMS, and while it was not always easy, I can't deny that we've had a lot of fun turning Alf's idea into a reality.
Regarding my background, GivingData gave me the opportunity to inject my experience in knowledge management and organizational learning into the product. And as far as philanthropy, I owe a lot to the Barr Foundation and what I learned under the mentorship of Marion Kane, their Executive Director from 2000 to 2008.
As Steve Jobs once said "You can't connect the dots looking forward; you can only connect them looking backwards. So you have to trust that the dots will somehow connect in your future." I'm glad I trusted that the dots would connect, and I'm now proud of what we've created at GivingData.
What does GivingData's mission mean to you?
After spending 20 years working in philanthropy, it's exciting to work for a company that helps foundations and their grantees achieve their mission by transforming how they work. When I left the Barr Foundation at the end of 2010, my personal mission was to continue my journey in philanthropy by serving not just one but many foundations, to learn with them and help them amplify their impact. GivingData has given me that opportunity and accelerated my ability to deliver consistent results to our clients. I'm so pleased with what we've accomplished so far and I'm inspired to do even more in my new role.
What moments are you most proud of from your time at GivingData?
One of my favorite moments is one that precedes my official start date with GivingData. In 2010, Alf and I presented at the annual Grants Managers Network (now PEAK Grantmaking) in Baltimore.
At the end of our presentation, an audience member approached the microphone. We thought she was going to ask a question, but instead, she enthusiastically endorsed our work. I don't remember the exact words, but they were more or less "Today, our dreams became reality. We now know there are people out there who can build tools that will help us work the way we want to work." It was a thrilling and validating moment.
Another was our decision to expand GivingData into a full-featured grants management system. We had been discussing this pivot for a while, and when we pitched the idea to a small cohort of early clients, their enthusiasm and pledges of support provided us with all the validation we needed. Twelve months later we proudly released version 1 of GivingData Grants Management.
While these will always be two key defining moments for me, there are countless other moments that I'm proud of from my time at GivingData and I'm expecting to add many more to the collection.
For instance, when a client shares a major accomplishment with us and tells us how GivingData was instrumental in achieving it. Or when one of my colleagues shares a story of a happy client or a happy nonprofit who mentioned that "it was so easy to use our Grantee Portal." Or every time I show GivingData to new grantmakers and their eyes light up when they see the possibilities open to them. These moments are a daily reminder that we should be grateful and proud for what we have accomplished and will continue to accomplish in the years to come.
"....if we continue to ask ourselves 'to what end are we building this feature, and to what end are we doing this work', we will have a better chance to tell our impact stories."
What is your new role and why is this change important to GivingData's future?
In a nutshell, this is a new role that will allow me to collaborate across departments and offer my expertise and institutional knowledge where it's most needed. I'll be exploring emergent ideas for the platform and for our clients.
My new title has two important words in it – innovation and impact – so one of my challenges is to demonstrate what we mean by innovation and impact at GivingData. This is where emergence and humility come into play. We must listen to what our clients and the nonprofits they work with are saying, while taking time to reflect and learn from the work we are doing along the way. Innovation and impact will not only apply to the new features we continue to build, but also to the way we think and work both internally and externally.
In terms of impact, I believe that if we continue to ask ourselves "to what end are we building this feature, and to what end are we doing this work", we will have a better chance to tell our impact stories.
Finally, I can't stress enough how important the word "client" is in my title. Innovating would be pointless if it wasn't in service of the people who use GivingData every day to impact the lives of so many people around the world.
What type of leadership is needed in philanthropy at this time and how can a software company like GivingData contribute?
I'll answer this question by describing the kind of leadership I've come to appreciate in my years working with foundations. There's a poem – Fire, by Judy Brown – that illustrates it very well. It begins "What makes a fire burn, is space between the logs, a breathing space. [...] too many logs [...] can douse the flame [...] So building fires requires attention to the spaces in between, as much as to the wood."
I like the idea of foundation leaders as people who start fires. And I believe it is their job to sustain the fires they start by creating space for their staff and the nonprofits they work with.
GivingData supports this kind of leadership very well. Unlike other grants management systems, we're not just a database where you "pile on the logs." GivingData is also a collaboration space that facilitates interactions and creates opportunities for ideas to spark – a platform that helps people start fires and keep them alive.
Sign up for the GivingData Insights Newsletter
Receive actionable insights to streamline your grantmaking processes straight to your inbox.