trusted by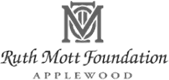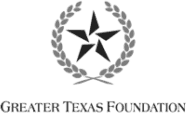 
Purpose-Built Software
GivingData's GMS provides comprehensive functionality & user-friendly design. Let's transform your grantmaking.
Learn More



Values-Driven Partner
With more than ten years of providing software solutions to grantmakers, our partnerships and collaborations speak for themselves.
Learn More



Trust-Based Approach
Our system is built to activate your trust-based philanthropy goals through transparency, ease-of-use, and engagement
Learn More


#1 GMS for Family Foundations
GivingData is one of the fastest growing grants management systems, and the top choice of family foundations according to the 2022 State of Philanthropy Tech survey from the Technology Association of Grantmakers.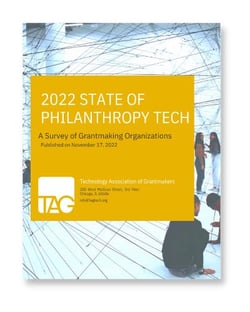 GivingData GMS

GivingData provides grantmakers with a full-featured grant management software, strategic guidance, and premium support to help foundations transform their grantmaking.
For Foundation staff
A Best-in-Class User Experience
A purpose-built grants management software solution designed for the needs of grantmakers large and small. Easy data management, a beautifully designed user interface, robust permission capabilities, and highly customizable. Sophisticated enough for the most complex needs, but simple enough for any grantmaker.
Learn More

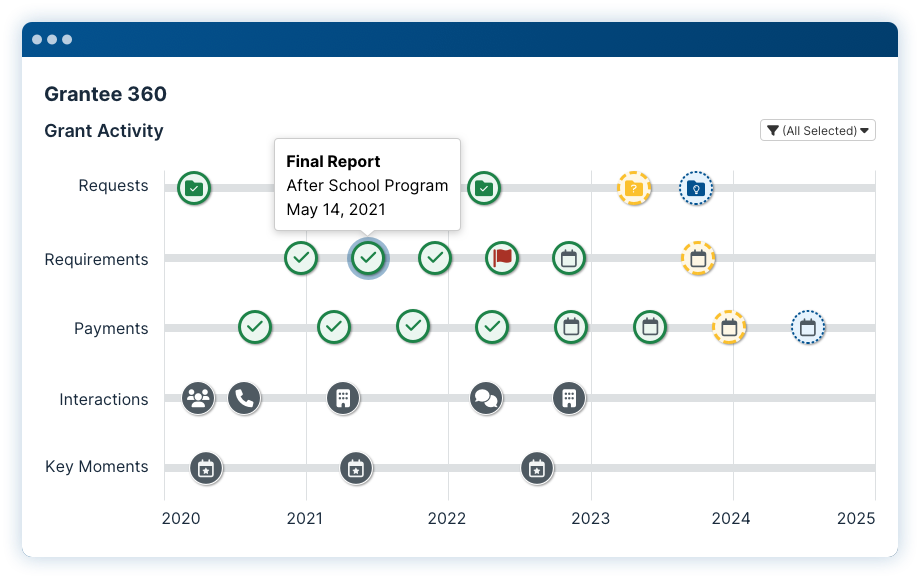 FOR GRANTEES
A Grantee Portal that Delights Your Nonprofit Partners
A grantee portal built with grantees in mind. Reduce application times, improve the reporting experience, and better measure the impact of your social investments. Move beyond form-based transactional interactions to a richer, more collaborative experience with your grantees and applicants.
Learn More

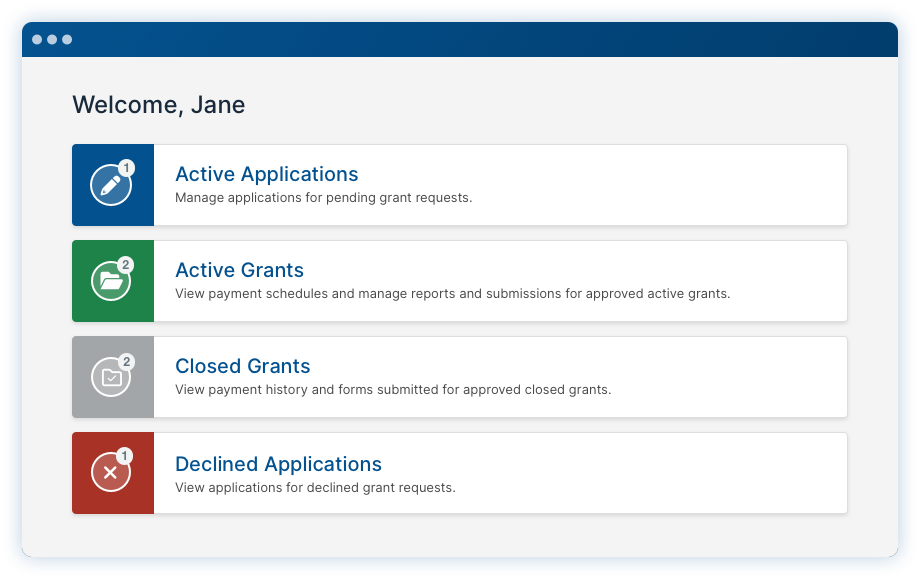 Grantee Relationship Management (GRM)
Tools for Capturing Interactions with Grantees
Emails with your grantees, site visits, phone calls, in-person meetings. All of these interactions with your grantees contain valuable information that make up the fabric of your relationships with them. And those relationships are at the center of almost everything you do. Why manage them in a separate system from your grantmaking data? GivingData provides a rich suite of integrated CRM capabilities right where you need them. Fully integrated, data-rich, and easy to use.
Learn More

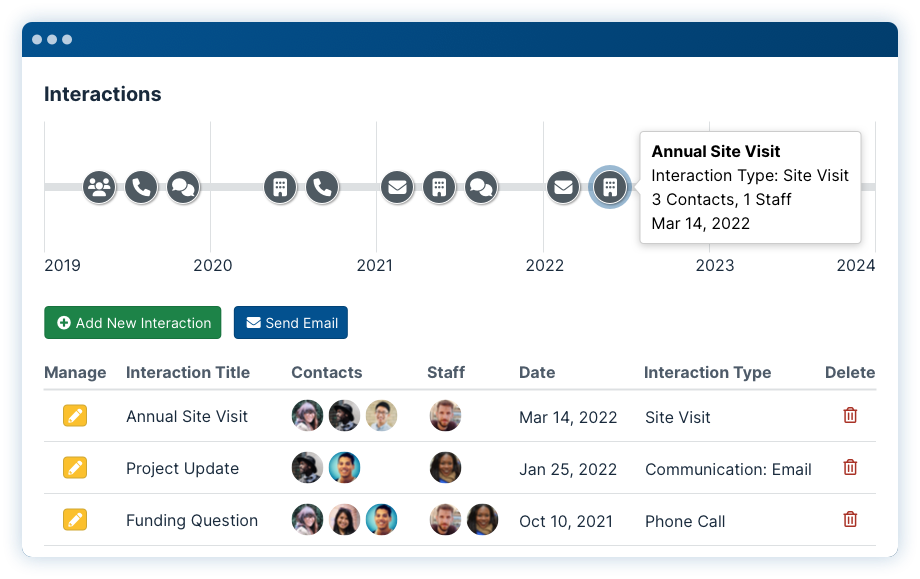 For Grant Evaluators
Measure the Impact of Your Grantmaking
GivingData's grant monitoring, assessment, and impact measurement features provide quantitative and qualitative grant-level data tracking as well as robust dashboard views that allow you to see both the forest and the trees in evaluating your collaborations with grantees. Not only that, GivingData's impact measurement integrates with the Grantee Portal so that grantees can provide self-assessments as well as impact measurement data for program and evaluation teams.
Learn More

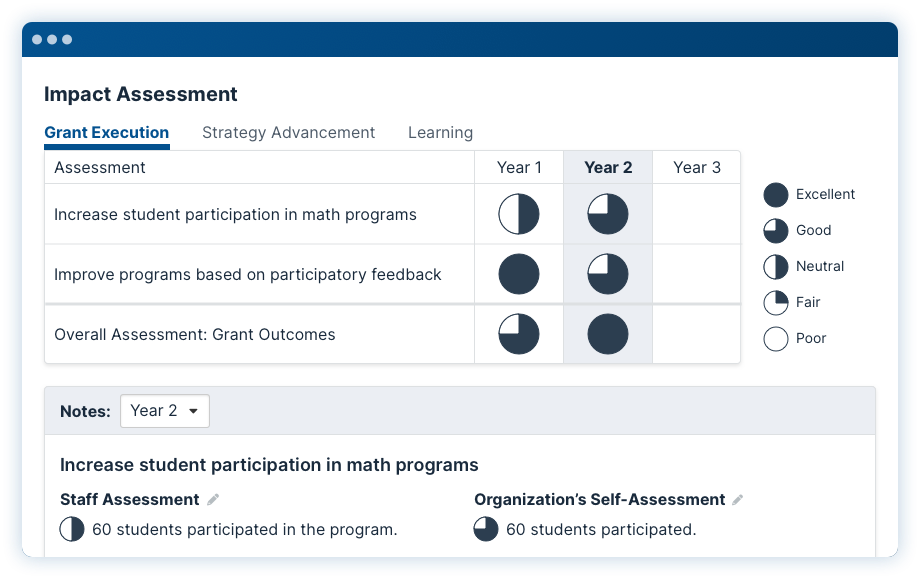 For APPLICATION REviewers
A Platform for External and Internal Application Reviewers
Get access to a portal product for your application reviewers directly within your grants management system. Custom rubrics, quantitative and qualitative assessment capabilities, and the same easy-to-use, intuitive user experience you've come to expect from GivingData.
Learn More

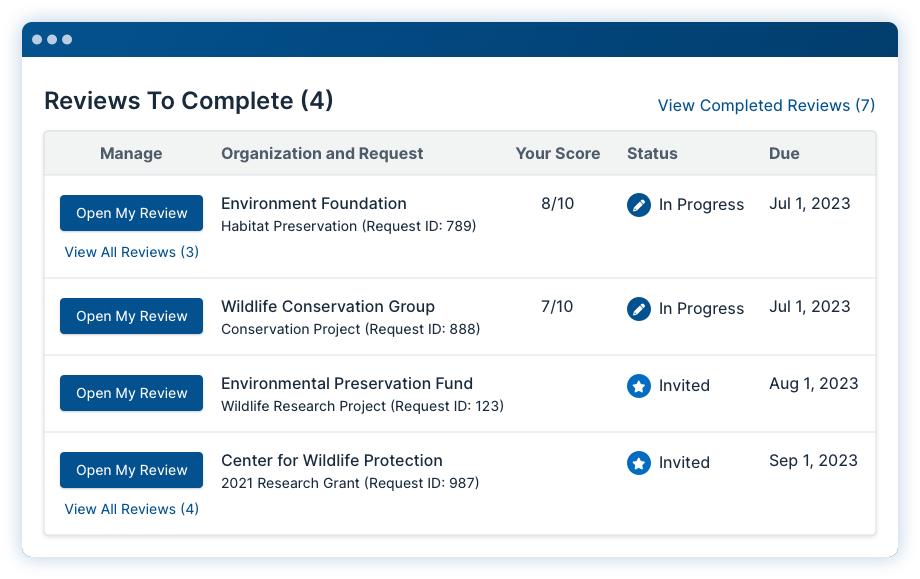 For Foundation Boards
Curate Views of Your Grants Data for Board Members
Foundation Boards are increasingly interested in seeing, through data, the strategic programmatic work the foundation staff is performing. But often times they don't need to see the operational details of that data. With the GivingData Board Portal, you can curate meaningful views of the data for your Board, showing them only the data that they need to see.

We worked directly with foundation Board members to design a portal that speaks to their unique needs. Secure and reliable access to data that's easy to use and facilitates collaboration between both the governance and the operations sides of the foundation.
Learn More

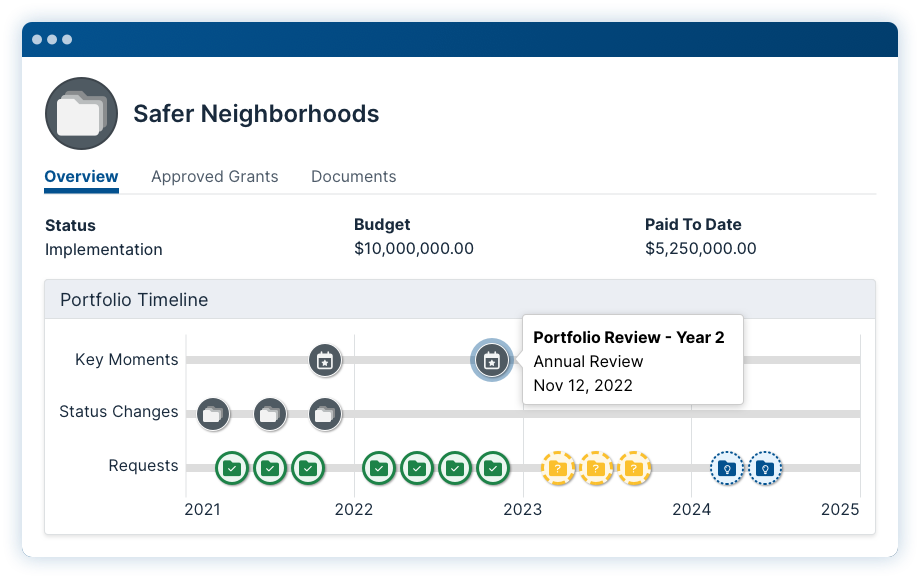 Additional Features


Workflow & Task Management
Manage your tasks, collaborate with colleagues, and stay on top of everything you need to do.

Tax Status Verification
Fully integrated and up to date IRS data for seamless tax status verification of your grantees.

OFAC Compliance
Authoritative organization and contact screening compliance through Bridger Insight.

Grant Payment & Budgeting
Industry-leading dashboards help you manage the financial side of your grantmaking.

Scenario Planning
Provides your program teams with grant and payment planning and projection capabilities.

Roles & Permissions
A robust and granular permissions architecture provides rich security controls and flexibility.

Publish to the Web
Using our built-in API, make your grants data available to your website.

Easy Data Migration
Moving your data to GivingData from other grants management products is a breeze.
...and much more.
About GivingData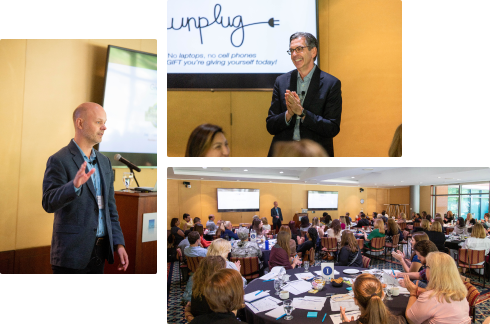 WHAT WE BELIEVE
We believe the work you do helps make the world a better place.
Like you, we're driven by the desire to do good in the world. Our role is to help you do your work better, more efficiently, and in true partnership with your grantees. Our team has worked many years in philanthropy. We understand the challenges and we can help deliver on the opportunities.