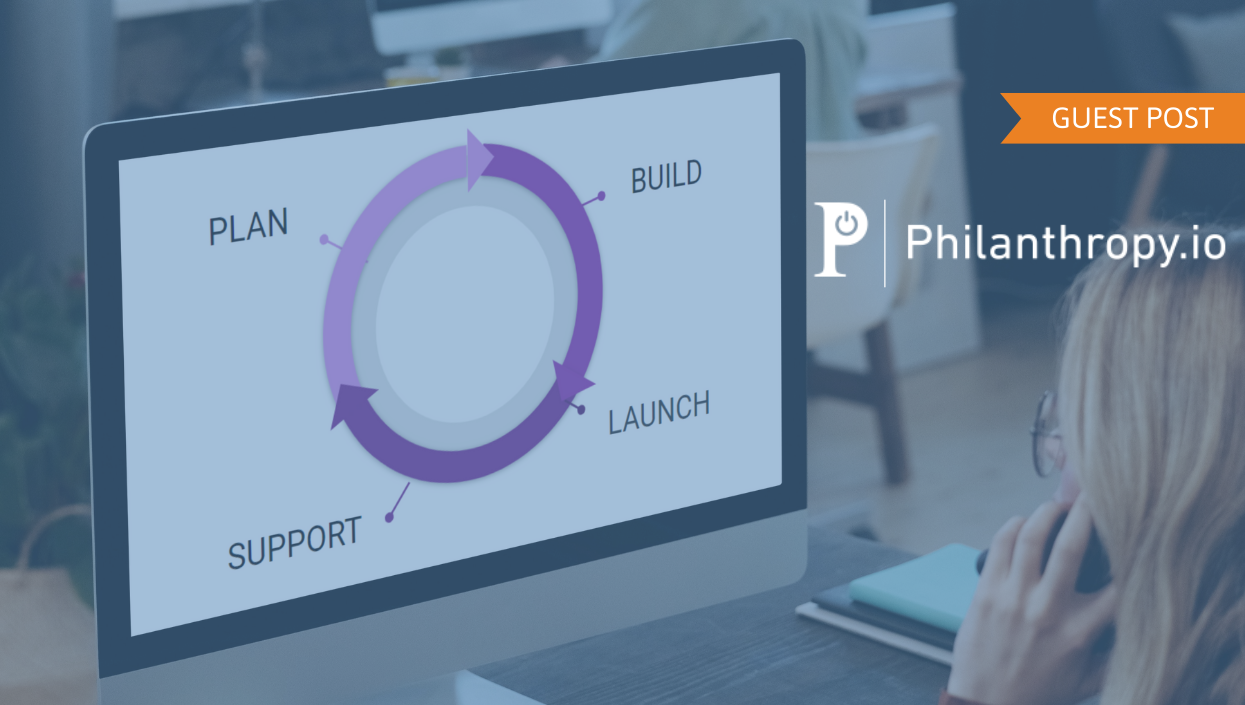 Article
A Model for Grantee Portal Success
Grantee portals and the support they require differ from one foundation to another. This can be due to a number of factors including how the foundation views and positions its portal, the foundation's approach to managing relationships with grantees, the volume of forms and portal users, the needs of portal users, the internal capacity to support the portal and its users, and the available and adopted features or functionality within a portal.
Regardless of how your foundation manages and prioritizes these factors, below we offer a structure and things to consider during each phase of designing your grantee portal and support plan. Many of these are interconnected and can be used to inform one another.
How do you manage a successful grantee portal?
Then iterate based on feedback for continual improvement.
This model provides a structure to get you from the initial stages through supporting your active portal users. Like all models, this one oversimplifies the process. The specific activities that occur in each stage can vary, but here are a few ideas.
Plan for it.
Define/Position Your Portal
What is your foundation's vision or goal for its grantee portal? The grantee portal is an extension of the foundation where external users come to engage with it. Are you treating it as such or is it merely seen as a transactional site? Does the look and feel of it match the foundation's branding? How can it help further the foundation's mission? Can it help you meet your DEI objectives? Is the portal seen as an essential part of your trust-based philanthropy approach where nonprofit partners come to connect, collaborate, and build trusted relationships? Is the instructional text and form language accessible and understandable for all applicant audiences? As a grants manager, how do you view the portal? How might a member of the program team view it and interact with it?
A Brand Association Map is a marketing tool that can help visualize attributes and concepts associated with your grantee portal, similar to a word cloud.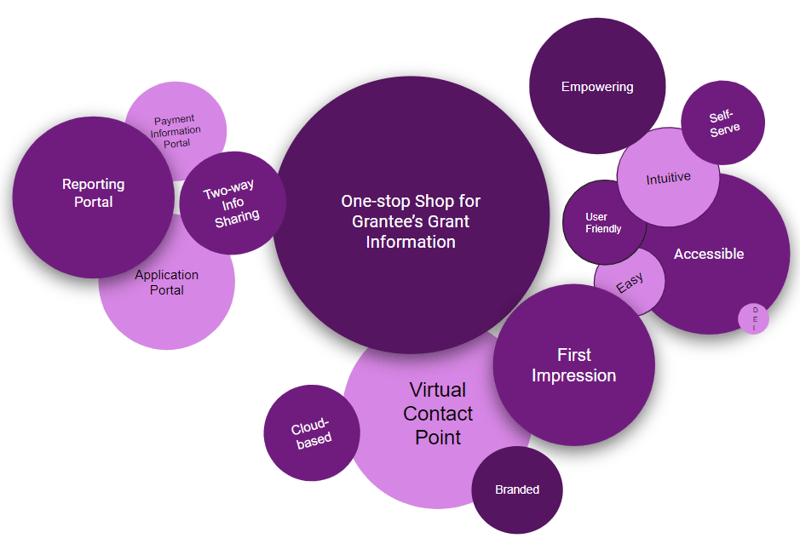 Defining what the portal is to your foundation can be a collaborative project with your colleagues that helps build buy-in and supports the adoption of the grantee portal. Or it could be a quick, 10-minute exercise that you do on your own. Either way, it's worth stepping back and thinking about its significance.
Understand Your Grantees
Understanding the users of your grantee portal can help determine what you need to support them as they adopt the portal. To help identity who will use your grantee portal, you might ask yourself:
Are they accustomed to using a grantee portal?

Are they the general public or established partners?

Are they tech-savvy?

Do they have easy internet access?

In which languages are they accustomed to working?

Do you want or need to support the full ability spectrum? (On this note,

Respectability

has resources for inclusive philanthropy

.

Your grants management system may have some built-in accessibility features such as being screen-reader friendly.)



Borrowing from marketing tools again, you could adapt a User Persona or a Customer Profile to identify your grantee portal users and their needs. You could create a profile for a generic nonprofit grant seeker that represents all grantee portal users (like the example below), or you might find that grant seekers for different program areas have unique characteristics, and you could build a profile for each one.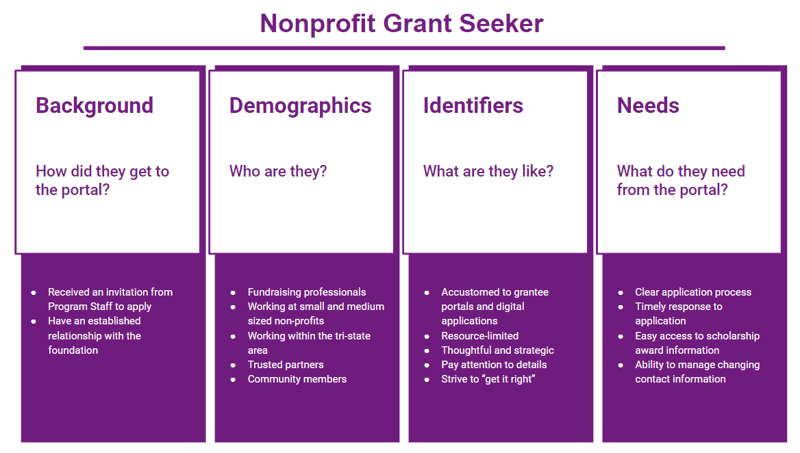 Map Your Process
Identify your current process, and if you're adopting a new process, identify that, too. This means identifying the steps or tasks related to your grantee portal, how they are done, who does each one, which are required and which are optional, and when each is done. You could expand this to identifying your full grantmaking process – from concept to close.
Think of process mapping as an "And then?" interview. Here's an example:
Interviewer: "What happens first?"
Staff: "First I add an organization to the grants management system and verify it is eligible to receive funds."
Interviewer: "How do you do that?"
Staff: "I log in to the system, click on the Add New button, select Organization, then search for the name to make sure it doesn't exist in the system already, and if it doesn't, I click Save."
Interviewer: "And then?"
Repeat until you reach the end.
There are several techniques for process mapping that you can find online. Use the one that makes the most sense to you. It can be simple or more complex. There are also many hands-on and collaborative tools that can be leveraged for mapping your process from whiteboard diagrams and sticky notes on a wall to text-based documents or spreadsheets and SmartArt diagrams in Microsoft to purpose-built software such as LucidChart and Miro.
A customer journey map could be adapted to the grantee experience of the portal. The tool and the technique matter less than the quality and output of the information in the map (Word document, bullet point list, sticky note wall, etc.).
Process maps can be used to identify unmet needs or create a gap or needs analysis -- given where you are and where you want to be, what is missing, and what you will need to get there. They can also be used as outlines for user manuals and support the training process.
Dedicate Resources
Once you've identified what you will need to be successful, secure the resources you need to make it happen. These resources likely include people/time, funds, and materials.
People/time are needed for planning, building, testing, and supporting the grantee portal. One of the criticisms captured by #FixtheForm related to grant application processes is that no one is available to provide assistance when needed. What resources can you put into place to prevent your portal users from having that experience?
It takes time to manage the portal in all phases and, if it's part of your job, you should have time to do it. Discuss it with your supervisor and whether it requires a reprioritization in your work. You might also ask to have your portal responsibilities reflected in your job description.
Identifying the people and time they have available to support the grantee portal can help you design your support plan and resources. As an example, if you are a grants management staff of one and you already work weekends just to keep up, design a support plan that minimizes the time it takes to manage the portal (e.g., provide self-service reference materials such as FAQs and don't adopt the comments feature of the grantee portal).
Funds can help fill a resource gap and add people (capacity) and time to a project. You might hire a consultant to help you refine your portal, adopt one for the first time, create reference materials, or you might have implementation fees associated with adopting a new system.
Identify the materials you want to put in place to support a successful grantee portal. Reference materials can help you scale your use of the portal and minimize the internal capacity needed to support it. Will you provide self-service FAQs, user guides, internal training manuals, or videos? How will they be made available? (Who will do it, how will they do it, and when will it be done?) Can you design these materials to be evergreen (e.g., not specific to an application or report, but more generally about how to navigate the portal) so they require minimal maintenance?
Envision a Successful Launch
If you're adopting a new portal or adopting a portal for the first time, what will the launch look like for your portal? Will you make a big announcement? Do you want to celebrate the benefits of the change? Maybe your foundation assumes everyone uses grantee portals these days and a simple email to current grantees is sufficient. Maybe you plan for a soft launch, testing a single form with established partners? Will you send an email to current grantees notifying them of a change? If you have active grantees in another portal, how will you time the transition? Can you suspend, waive, or allow more time for reporting on active grants?
It is possible to strategically time the cutover from one system to another to minimize downtime and the impact on application and reporting cycles. Proactively and adequately plan for cutover and blackout periods so that it doesn't. Failing to plan for them early on in a project is a common oversight. Work with your grantmaking calendar (application cycles, board meetings, etc.), and your leadership and program teams to identify a strategy and time that works for your organization. You might analyze upcoming reports to find a window when the fewest reports are scheduled. You might not have flexibility if you have a firm cut-off date due to the end of a contract with your current software vendor. That's important to know and plan for.
A vision for a successful launch is informed by how you position your portal, your grantees, and your resources. Think through what it means to make the transition. What will you need to make that happen? Revisit your resources to ensure you have identified everything.
Similar to the process map, you can now design a project plan with timelines and deliverables that takes into account how you're positioning your grantee portal for users, how you will support user needs and the associated resources needed, and the elements required in the portal configuration.
You'll want to come out of the planning phase with a project plan that identifies essential elements that are needed for a successful launch. (Here's a template to get you started.)
Build it.
Refine Applications, Reports & Templates
Whether you're adopting a portal for the first time, changing portals, or refining your existing portal, now is an excellent time to refine the forms you are using in the portal. Efforts are underway in the sector to improve the grantee experience and infuse trust-based philanthropy into the process. The #FixtheForm project can be a helpful reference as you think through how to revise your forms and the Trust-based Philanthropy Project offers guides and templates. You might consider whether you need a form at all, and, if you do, is it appropriate for the level of funding? What questions do you really need grantees to respond to? Are you asking them in a way that is easy to understand and produces clear answers? What information do you need to report on or have available in the system?
There are internal benefits to asking these questions and refining your forms. It can help minimize the effort (resources) needed to manage the portal. Consider if you can make the forms multi-purpose or whether conditional logic could be used to streamline the grantee experience or reduce the number of forms to manage. If your foundation has multiple forms, you might perform a comparison to identify where there is alignment and where they differ.
Refine your templates to make sure they serve you and are in line with best practices in philanthropy. This could include reviewing your grant letters and agreements to streamline them or setting up automatic, system-generated reminders and notifications to help keep internal and external users informed. One example of this might be scheduling and confirming the text for upcoming and overdue reminders related to applications and reports. Do the templates contain the necessary information to help external users quickly identify what needs to be done, by when, and how to do it? Explore the options available for you in your grantee portal and determine what will be most useful in meeting the needs of your grantee portal users in line with your organization's view of the portal.
Become Portal Experts
Leverage the experience of building your portal to become a portal expert and position yourself as an internal and external resource. Create a test organization, set up test records, and create a test user for yourself in a test environment (staging or sandbox) or production. Understand the functionality that is available to you so you can leverage it to meet your desired outcomes. You can engage your customer service team to discuss options or request a demo of the portal.
Test
Before you launch or roll out new forms, verify that the portal functions the way you want it to and that all forms appear the way you expect. To help you test, you can create checklists or scripts that include the steps involved with using the grantee portal and the expected functionality to support your testing. Doing so can help you as new versions of the software are rolled out to confirm that it functions the same way.
Testing in this way will continue to develop your portal expertise and you might even develop a new skill in software testing.
Create Reference Materials
Now that you're experienced using the system, your portal forms have been refined, system features are well understood and adopted, you understand your portal users and your process is in place, what internal and external reference materials will you need to create? What learning styles or accessible features will you support with those materials? What languages will they need to be created in? Will you host training sessions? If the training is virtual, consider recording it and making the video accessible so it can be referenced in the future. What questions do you anticipate (internally and externally), and can you create an FAQ that can be easily referenced?
At Philanthropy.io, we often create internal and external user guides for our clients to support their grantee portals and grants management systems. They can differ significantly based on the client's preferences and range from bulleted lists of steps to highly detailed guides laden with screenshots and explanatory text that double as training manuals. The best guide is the one that gets used, so understanding your internal and external users and where they might need support in using the system can help you determine what level of detail to include.
Creating these materials is an investment of resources, but it can save you time in the long run and help you scale your support strategy as the number of grantee portal users grows.
Here are some tips for designing materials in a way that minimizes the resources need for creation and maintenance.
Make them evergreen.

Structure them for easy maintenance. For example, you could create one user guide that explains how to register and log in, provides navigation tips, and defines icons so it applies regardless of whether they are trying to complete an application or a report form, and another that is form specific.

Templatize your materials for a consistent look and style.

Keep them simple. Use an active voice and simple sentence structure.

Make them accessible. This applies to their features and how they are designed (subtitles on a video), their format (accessible document types or webpages and use common document types such as a PDF), and where they are stored (make them easy to find).

Design them to be easy to update and maintain. Again, a template can come in handy so if you need to adjust the style, it can be done quickly. (Has anyone gone through a rebranding lately?) Identifying what information goes where and not duplicating it can reduce the number of places where it needs to be updated. You might number the guides in the order in which they'd be used to help them appear chronologically in your file storage system.

If your grantee portal does not support the user's ability to view the full application in advance, consider creating an easily accessible PDF that contains all of the questions in the application.
Launch it.
The Rubicon between building and supporting. This is the moment of truth where all of your planning and preparation are realized. It's fleeting. You quickly transition from build to support with a brief stop at launch. This can be a particularly time-intensive period that requires extra focus to ensure things go smoothly and all users are supported.
Execute the Plan
You've put so much time and effort into planning for success, envisioning the launch, and building out the portal and supporting resources. Now it's time to flip the switch. This stage might include training, communicating, and facilitating internal and external users.
Train
To support the launch, you may need to train staff. You may also offer training for grantee portal users. If you hear "training" and think "boring", you're not alone, but training does not have to be boring. You can infuse it with creativity, gamify it, or offer tasty treats and caffeine to incentivize attendance. You can use a flipped classroom model. It doesn't have to be dry.
Training should be reinforced internally to be successful. This can be done by offering tips and tricks at staff meetings, using trivia or bingo cards, designing mastery cards, and incorporating elements of the grants management system/portal into performance reviews. Also, consider a staggered model for delivering training that is reflective of the current work at hand to make it feel relevant. For example, if you have a quarterly grantmaking cycle, train on Board write-ups and grant agreement letters in the 3-4 weeks leading up to the creation of those deliverables, not at the start of the quarter.
Communicate Internally and Externally
Communication plans should fit the foundation and its needs, as you are going to have to do some communicating around the launch. You might try some of the following techniques:
If you're transitioning systems, you might be more proactive in your approach, sending notifications to existing grantees 90, 60, 30, and 7 days prior to switching off the old system and switching on the new system so they have time to prepare.

If your foundation is active on social media, you might post about it there.

If your foundation has close partnerships, you might prepare program staff to make phone calls to their primary points of contact to talk through the change.

You might host a meeting, workshop, or webinar.

You might send an email with information and links to the resources you created.

You might create a video to introduce the new portal or have a launch party with lunch for staff and demo the system.
Use your understanding of your grantees, how your foundation views the grantee portal, and your process to determine what and how you communicate.
Facilitate
Once it's live, be ready for the unexpected and plan to be available to assist users. This carries over into support.
Support it.
Support Internal and External Users
You designed a support plan and dedicated resources to support the grantee portal. Now it's time to implement that plan. If you have a dedicated phone line or email address or you adopted a comments feature, be sure to respond in a timely manner. Track issues that come up to determine whether the resources you created need to be updated. Maybe you add a question that you receive more than once to your FAQs, or you revise a set of instructions to make them clearer.
Collect Feedback
Fielding questions is a valuable way to collect feedback and you can certainly track issues that come up, both through the creation of an FAQ and an internal list. You could also adopt a more formal approach and solicit feedback directly through direct one-on-one communication or surveys.
A best practice when asking for feedback from grantees is to use an anonymous survey so that they feel able to answer honestly without concern that their responses will impact funding decisions. Create your own anonymous survey using tools such as SurveyMonkey, Google Forms, Microsoft Forms, Adobe Forms, or Qualtrics. (Here's a list of survey maker tools.) Some foundations include a link to the survey in the application or report forms or the confirmation email that is sent once the forms are submitted, in a grant letter, or via email to targeted segments periodically of their grantee portal users (e.g., for all grants approved this year).
Of course, when you ask for feedback about the grantee portal experience, you are likely to get comments that are a combination of items you control (how questions are worded, the number of questions) and ones you don't (the functionality of the software). For software-related feedback, share it with your grantee portal vendor. It can be useful information for them to receive as they do not have an opportunity to ask for feedback directly from your grantees.
Organizations like Grant Advisor or the Center for Effective Philanthropy and a number of consultants can assist with collecting and analyzing feedback.
Keep in mind, it is also a best practice to not ask for feedback if you don't have a plan to use it.
Reflect
In the spirit of that best practice, if you are asking for feedback, take time to analyze it and identify areas for change and improvement. If you aren't sure what to do with the feedback, have conversations internally, or you can take the feedback and have one-on-ones with some trusted partners to explore the issue further and identify potential changes.
Iterate
Continuous improvement is a bit of a buzzword (Kaizen, anyone?). You might hear "continuous improvement" and feel exhausted or overwhelmed. Please don't be. Please hear it as an encouragement to keep your grantee portal and the experiences of those who engage with it the best they can possibly be. Take a moment to congratulate yourself on your portal and celebrate your hard work and success. You have put so much effort into making it what it is today. The encouragement to iterate is offered in the spirit of keeping your shiny, new grantee portal shiny. Don't let it tarnish. Bring the learnings from the feedback and reflection into practice by refining your approach, your understanding of your grantee portal users, the process, the system, and the resources.
When it comes to iteration, you can determine the timeframe and the scale of change. Maybe you only have the capacity to review things once a year. Maybe your team does surveys following quarterly board meetings and you implement improvements following a review of the survey results and input from the board. Maybe the issue that came up is critical and needs to be changed immediately. Whatever you decide, you now have a model and some tools to help you plan, build, launch, and support your grantee portal.
For a few real-world examples, I highly recommend watching this webinar featuring examples from Conrad N. Hilton Foundation and Foellinger Foundation.
---
Philanthropy.io is a boutique consulting firm focused on the business process and technology needs of grantmakers. We have expertise in grants management systems including grantee portals as well as business process design. We support our clients through software selection, implementation, and optimization projects as well as reengineering business processes in line with industry best practices, development of supporting documentation for internal and external users, and change management.
Mary Kadzielski has more than a decade of experience in the nonprofit sector, working in pursuit of making the world a better place and helping organizations be more efficient and effective. Her consulting work has focused on strategy, operations, business processes and continuity, change management, technology, research, coalition building, and communications. Prior to switching to a consulting role, she served as COO of an environmental nonprofit.
Mary has an MBA from Cornell University and Queens University and a Master's in Wild Writing from the University of Essex. Her dissertation focused on climate change as a human and human rights issue, specifically focused on the people of the Republic of Maldives. She completed her undergraduate education at the University of California, Irvine.
If you'd like additional information on any of the above or support with your grantee portal, please contact Mary at mary@philanthropy.io.