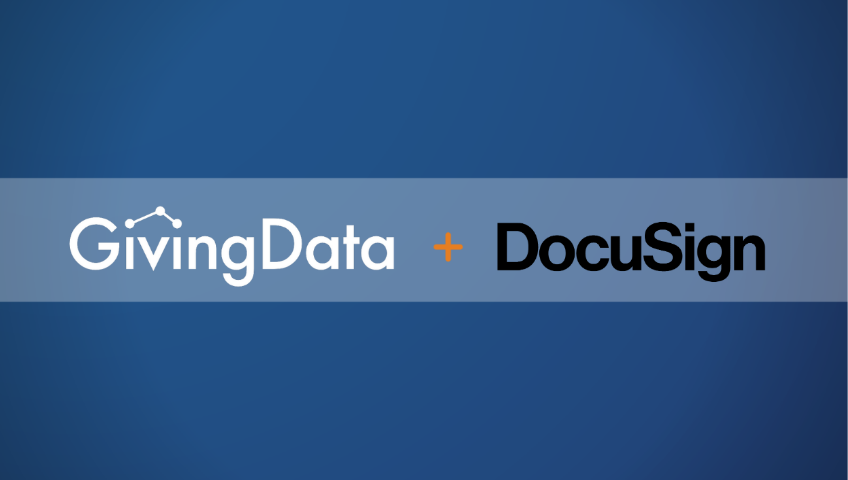 GivingData Expands Partnership with DocuSign to Strengthen E-Signature Integration
New enhancements enable foundation teams to leverage native GivingData in-app functionality.
CAMBRIDGE, MA, January 11, 2023 - GivingData, a leading provider of grants management solutions to family and independent foundations, announced an expansion of its partnership with DocuSign eSignature to strengthen how foundations streamline document approvals with their nonprofit partners.
Since the onset of the COVID-19 pandemic, foundations globally have accelerated their digital transformation in order to ensure continuity in their business processes while working virtually. To help support this transformation, GivingData has rolled out deeper integrations with DocuSign eSignature that make it easier for grantmakers to manage and sign grant agreements in the cloud.
The expanded integration with eSignature provides GivingData clients with several capabilities, including process automation, enhanced security and governance, and signature tracking. This partnership has been in place since 2020 to augment GivingData's ability to support grantmaking foundations with staff that are increasingly virtual.
Grantmakers can now create and send an eSignature request directly from GivingData, and then link to the signed document from a grant, contact, or organization record. The expanded integration allows grantmakers to streamline and visualize their work without needing to leave their grants management system.
"Our partnership with DocuSign eSignature strengthens our ability to help our clients manage time-sensitive grant agreements directly from within their existing workflows," said Eric Jones, Director of Product Management with GivingData. "Enabling clients to access their eSignature environment from within GivingData expands their document management options and represents a key step in leveraging our native functionality and another leap forward in efficiency and productivity."
About GivingData
Founded in 2016, GivingData is a SaaS grants management system that streamlines every phase of the grant lifecycle. Its clients include family and independent foundations that provide funding to nonprofit organizations and NGOs across the social impact sector at the regional, national, and global levels. For more information, visit https://www.givingdata.com.