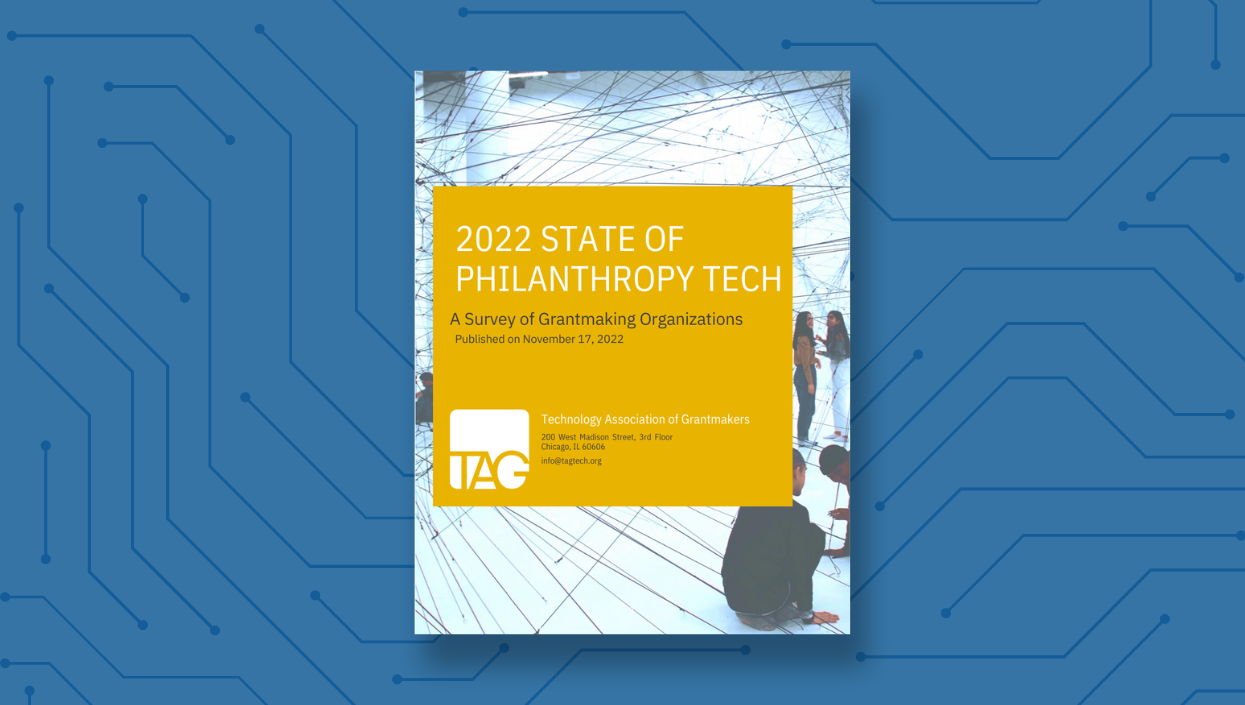 Blog
What Does TAG's 2022 Survey Tell Us About Family Foundations?
The recently released TAG (Technology Association of Grantmakers) 2022 State of Philanthropy survey report includes insights that may help family foundations assess their 2022 performance in context. By comparing and contrasting their technology environment, grantmaking practices, and grantee perceptions with those of other grantmakers – particularly peers – family foundations can get a sense of what they do well, as well as identify opportunities for improvement and experimentation.
Data gathered in this survey closely aligns with trends we've seen in family foundations, further detailed in the Stanford Social Innovation Review's (SSIR) "The Future of Family Philanthropy" article, published in September. Relationships with nonprofit partners are a major focus of family foundations, and while that isn't unique to just this type of foundation, the datasets highlighted below show how family foundations see relationships at the core of collaborative, effective, and trust-based philanthropy.
Nearly 50% of family foundations continue to remove funding restrictions, and GivingData is their leading GMS of choice. Source: Technology Association of Grantmakers
Family foundations are committed to change
Over the past few years, foundations have made tremendous shifts in the ways they support nonprofits to get them through the most difficult of times. While many of these shifts were occurring even before 2020, it's not a surprise that the speed of change increased in the wake of the pandemic.
Some of the new commitments that were trending up even before the pandemic – streamlining applications and reporting, adopting paperless payments, providing training and technical support – are continuing to see forward momentum, as 62% of all foundations that responded to TAG's survey stated that they would use streamlined applications in 2022 (a slight increase from 2020). However, just 34% of foundations indicated they would remove funding restrictions in 2022, down from a high of 41% in 2020.
Family foundations are leading the charge when it comes to removing funding restrictions, as 46% of these foundations stated they will continue to do so. This is reassuring as it shows family foundations' commitment to embracing change and taking risks, if it means they can make it easier for grantseekers to access and use their support. The SSIR article acknowledges there are a multitude of external forces that are pulling family philanthropy in this direction and that, encouragingly, there are also many family philanthropies that are pushing for these changes.
One such foundation highlighted in the SSIR article is General Service Foundation, who we are proud to have as part of the GivingData community. Back in 2016, they changed their spending policy so that it would better take into account their mission and current circumstances. This put them in a prime position in 2020 to use this policy to increase their payout by ten percent for four years to address racial, gender, and economic inequities.
Overdeck Family Foundation, another organization that recently moved its grantmaking into GivingData, shifted their funding model to one that prioritizes relationships, as a response to grantee feedback gathered during the start of the pandemic. This allowed them to increase transparency with their grantees, provide support beyond the check, and much more.
The purpose behind these transformative changes was also highlighted at the National Center for Family Philanthropy's 2022 National Forum, where the clear consensus was that in order to be effective, family foundations must prioritize equity and diverse perspectives in their policies and practices. There was also emphasis placed on accountability from families and addressing the clear power dynamics that are crucial elements of practicing trust-based philanthropy.
Most foundations continue to adopt some trust-based practices
While family foundations are clearly strong proponents of promoting trust-based practices, that doesn't mean that other foundations are pulling away from processes that reduce power gaps and grantee burden. Overall, foundations appear to be largely in favor of providing their grantees with streamlined applications and reporting, where campaigns like #FixTheForm likely contributed, as well as allowing paperless payments (ACH).
According to TAG's survey, one area where family foundations are not providing as much support is technology training and technical assistance to grantees. It's interesting to see where funders are focusing more of their efforts, and the delicate balance of determining which methods of support will drive forward their mission the most.
GivingData is the leading GMS of choice for family foundations
According to TAG's survey, not only is GivingData the leading grants management solution of choice for family foundations, but also one of the fastest growing GMS in the category since last year's State of Philanthropy Tech report.
We are not surprised, and actually see this as an endorsement of GivingData's commitment to serving private and family foundations with our purpose-built system. Our focus on providing better access to data, strong CRM functionality, and tools to improve collaboration between grantseekers and grantmakers make us a natural fit for funders who are embracing trust-based philanthropy and grantee relationship-building. As more and more grantmakers move towards these practices, GivingData will continue to be a key partner in the journey toward more equity, accountability, and transparency in philanthropy.
Thank you Technology Association of Grantmakers for continuing to serve and inform the sector with another excellent report.
For more information on how GivingData helps foundations, take a look at our past and upcoming webinars. If you're a foundation that would like to see a customized demo, don't hesitate to contact us and schedule one with our team.
Sign up for the GivingData Insights Newsletter
Receive actionable insights to streamline your grantmaking processes straight to your inbox.