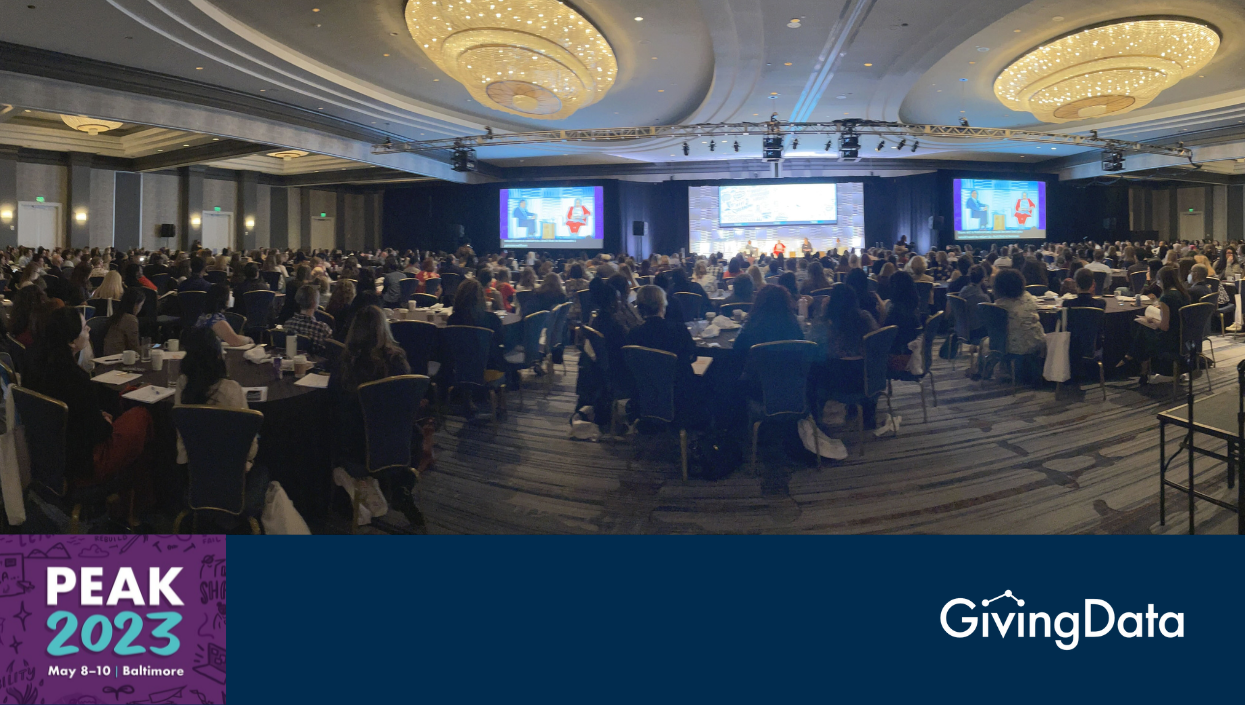 Blog
Impactful Takeaways from PEAK2023
Earlier this month, the PEAK Grantmaking community reconnected in person for the first time in three years at PEAK2023, which promised to be a collective emergent learning journey toward more equitable and effective grantmaking. More than 900 attendees convened in Baltimore, with around 300 also attending virtually through PEAK2023's Streaming Online, which GivingData was proud to support this year.
During the opening keynote, Satonya Fair, President and CEO of PEAK Grantmaking, acknowledged the 25+ years this community has led the way in advancing equitable, effective grantmaking practices. She made a call to all attendees and the more than 7,000 members of PEAK that "We have become a network that needs to be driving innovation and effective change. Most of all, we should be advancing equity in everything we do."
Our very own SVP of Client Innovation and Impact, Roberto Cremonini, also took the stage at the end of the opening keynote to address the in-person and virtual crowd. This was Roberto's fourteenth PEAK annual convening and he took the opportunity to celebrate the important role that PEAK has played over the years in both elevating the role of grants management as a strategic partner in foundations and also in inspiring GivingData to create a platform that uses data to strengthen grantmaking impact. He closed his reflections with an invitation to continue to build a better future together because, as leading innovator Alan Kay said, "The best way to predict the future is to invent it."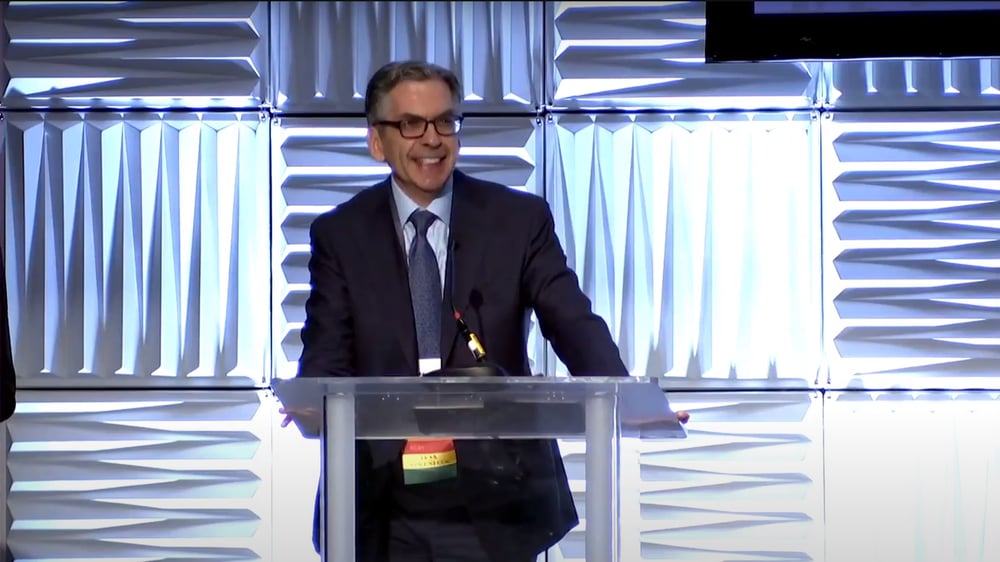 The convening provided three days of incredible insights, connections, and inspiration that the GivingData team was grateful to be a part of. GivingData team members across client experience, business development, product, and marketing departments attended the event and connected with clients and colleagues, listened to engaging and inspiring sessions, and brought back to their respective teams plenty of takeaways to guide us forward through the rest of the year and beyond. These takeaways will inspire how we continue to serve our clients, what innovations can help strengthen their grantmaking impact even further, and even what content and resources we share with our growing community of grantmakers.
Read on for a few of our team's takeaways from PEAK2023.
Grants Managers Need a Seat at the Table
In the opening keynote, "Grants Management as a Strategic Partner," what struck us was the evolution of grants management and how for years it was unusual to hear grants management and strategy in the same sentence. Miyesha Perry, the Director of Grants Management for Bainum Family Foundation, made this statement about the role of grants management at her foundation: "We are not being brought in to fix the crisis. We're at the table in conversation from the very beginning." There is a movement of grants managers taking on the role of grants practitioners.
This goes into the notion that grants managers need to have a seat at the table. But is having a seat at the table all that's needed to make an impact? No. A seat at the table for grants managers is necessary, but it's only part of the solution. CEOs at foundations need to provide additional seats with support and psychological safety. You determine your value; not your organization.
Institutionalizing change and creating change should always be the focus and as change agents, grantmakers need to facilitate change management even if it's uncomfortable. David Daniels, CEO and President of Bainum Foundation, emphasized that grants managers should come to the leadership team with clear visions and not "shrink to what the CEO wants."
David went on to explain with humility and compassion that the leadership team needs to put ego aside and allow grants managers much more than just a seat at the table. Grants management sits at the center of the Venn diagram and touches all parts of the foundation. And Gwyneth Tripp, Director of Grantmaking Practice at the Stupski Foundation, provided a perfect example of what sitting at the center meant when she proudly announced that she advocated for and successfully saw the board book being abolished at the foundation.
Align Grantmaking with Strategy, Values, and Culture
During a session with The Nathan Cummings Foundation, Janet Disla and Sara Touey discussed how the foundation adopted values, a vision, and a strategic plan, and over time aligned their grantmaking processes with each of those critical components.
In alignment with their values of interdependence and integrity, they replaced written follow-up applications with trust-based conversations. To align with their culture of collective care, they developed organizational initiatives that are human-centered.
It was clear that the move to conversations over lengthy, written applications led to deep appreciation from grantees, since it did away with processes they'd typically need to do over and over for each funder. A major takeaway from this session was the usefulness of templated conversations that are logged into grants management systems and allow stakeholder feedback and progress reports.
The Importance of Disability-Inclusive Grantmaking
Gail Fuller, Senior Director of Program and Communications at Disability & Philanthropy Forum, led this conversation on an often-overlooked topic: disability-inclusive grantmaking. She shared the surprising statistic that one penny out of every ten grantmaking dollars goes towards disability rights/justice. This is because disability inclusion is often limited to only disability-centric funds and foundations, but if a foundation talks about racial justice, they also need to think about disability.
The floor of tackling this issue is meeting ADA (Americans with Disabilities Act) standards. Grantmakers must move inclusiveness of disability in their grantmaking from compliance to culture. Some foundations have even hired disability consultants to perform an audit.
Gail went on to assure that we won't all get it perfectly, but that's alright. What's important is that we continue to progress forward. This applies to grants software companies like GivingData as well and is a critical component of inclusiveness in the platform that our team was eager to bring back and discuss with the rest of the company.
Turning Conversations into Collaboration
Participatory grantmaking is a topic that relates closely to our webinar with PEAK's President & CEO Satonya Fair in January about moving conversations to collaboration. This is a grantmaking approach that centers around the community being served, instead of the top-down perspective where traditional grantmaking often takes place. Through participatory grantmaking, foundations can foster a spirit of deep collaboration with the organizations they work with, by providing them their own seat at the table.
Letting grantees take the lead is a critical part of participatory grantmaking. It's about providing flexibility to let grantees have decision-making power in what they're funding. If possible, a foundation should also provide resources like staff members and technology to really emphasize the collaborative relationship.
Some tips provided at the convening for conducting participatory grantmaking included:
Hire program staff from the communities you want to serve
Don't rush the process and take as much time as possible to plan the journey
Provide compensation for the advisory committee's time
Avoid decision overload for the group
Be clear that this is an opt-in model and that grantees aren't required to be a part of the committee
Grantmaking Outside of the U.S.
GivingData has primarily worked with U.S.-based foundations since its inception. However, over the past few years, we've onboarded a handful of foundations from Canada, Australia, The Netherlands, and the U.K. We're continuing to expand our presence internationally, so members of our team were excited to learn from grantmakers outside of the U.S. during one of the sessions.
Lauren Gross and Emily Collins-Ellis from I.G. Advisors hosted this session that tackled some of the unique aspects of international grantmaking and tips for a global approach. Even for foundations that are U.S.-based and not currently funding international organizations, it's important to acknowledge the unique landscape and context of U.S. vs. global grantmaking.
A common pain point for international recipients of funding from global foundations is that often the application is in a language the grantee may not be the strongest in. It's important that foundations taking a global approach demonstrate cultural competence by avoiding hyper-specific terms to their country, exploring and importing ideas from other countries, and questioning each stage of the application process.
A Mindset of Abundance
In the closing keynote, Satonya Fair and FutureGood President, Trista Harris, discussed how most people have been conditioned to operate with a scarcity mindset, which limits nonprofits' potential to achieve their goals and grantmakers ability to enable their nonprofit partners to thrive. We all have to look at what we're doing presently to make a vision happen vs. what we're doing to make it impossible.
Trista said to "develop a crystal clear vision of what you want the future to look like and then work backward." The nonprofit space and systems are shifting exponentially, so it's important to do this with haste and intention.
Trabian Shorters, former VP of the Knight Foundation, pointed out that in grant applications, foundations always start by asking nonprofits to explain what is wrong; they always begin with the problem statement. Instead, foundations need to start by asking for their aspirations. This is apparent in a lot of grantmaking, where foundations often label people by what is "wrong" with them (i.e. formerly incarcerated, homeless, teen mothers, etc.). Instead, know them by understanding what they're building towards – what are their highest hopes?
Trabian provided a call to action for foundations to stop asking nonprofits how desperate they are, how bad things are, and to not stop funding them just when they think their finances are "good enough."
What We're Looking Forward to at PEAK2024 in Seattle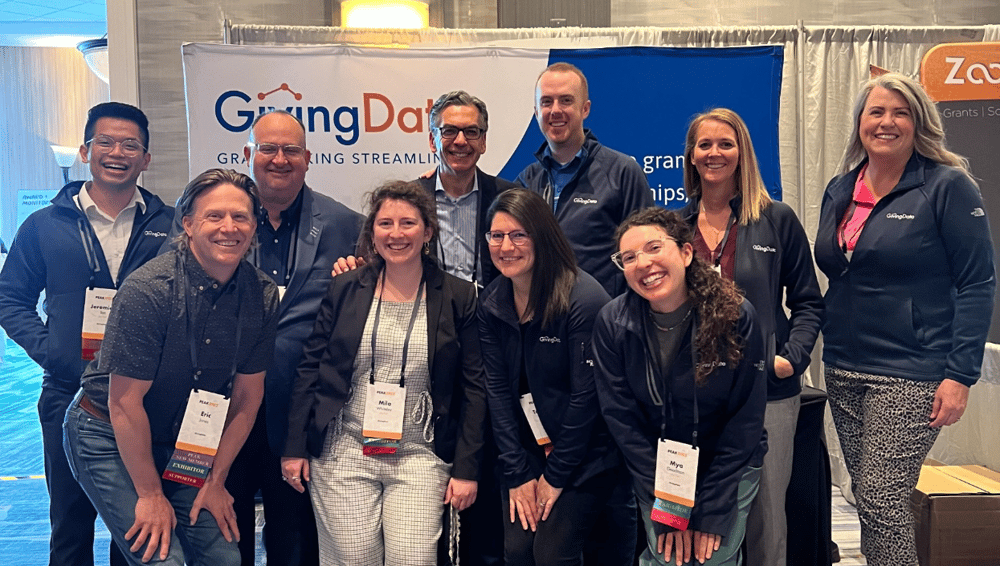 We're thrilled with the opportunity PEAK Grantmaking provided our team and the grantmaking community at the 2023 convening. To close out this fantastic event, we asked our team to share what they're looking forward to most at next year's event in Seattle. Here are a few of the highlights:
Connecting in person with our clients! GivingData is a remote-only company, so events like PEAK and GDConnect, our own annual convening, are some of the only times we get to see our clients outside of the Zoom box.
Learning how conversations sparked by PEAK2023 have progressed, as well as gaining insights into new areas of interest for the grantmaking community.
Experiencing the energy and joy of being together in person, as a community, focused on inventing a better world.
Finding out how PEAK will surprise us next year. This year's murals were beyond inspiring!
Sharing meals together and drinking lots of good coffee in Seattle!
Subscribe to GD Insights for even more best practices, events, and updates from our team and community.
Sign up for the GivingData Insights Newsletter
Receive actionable insights to streamline your grantmaking processes straight to your inbox.