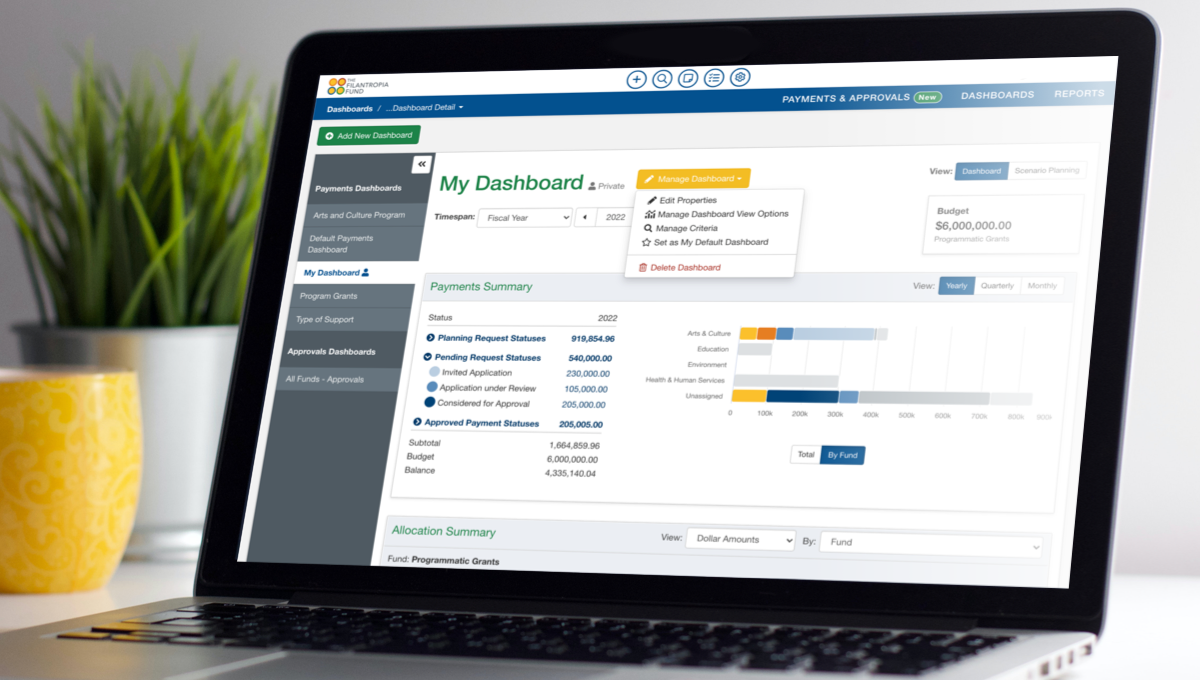 Blog
Streamline Grant Processes With Grant Management System Software
Grant management often requires in-depth and complex processes. The grant lifecycle begins with an idea or objective and walks through the steps from creation and application to reward and assessment.
Grant management system software exists to consolidate all of these steps on a single platform to streamline grant processes and improve accuracy and efficiency. It makes grant management easier for everyone involved.
If you're searching for a way to streamline your grantmaking process, take a look at how easy it can be with grant management system software on your side.
How Grant Management System Software Streamlines the Grant Lifecycle
The grantmaking process from start to finish is no easy task. It's essential to oversee every step of the process from creating and reviewing applications to tracking data and determining the impact of each grant.
For grantmakers, this process is important but also time-consuming and sometimes complex. It's no longer feasible for most grantmakers to collect information from multiple sources and enter everything manually into multiple spreadsheets.
That's where grant management system software comes in to streamline everything into one simple, efficient process. This software gathers everything in one place so grantmakers can focus on making a difference where it truly matters.
Let's take a look at the ways grant management system software can help streamline the grantmaking process.
Everything Is in One Place
Grant management system software is an all-in-one solution for creating and distributing grants to organizations and individuals. It collects everything along the lifecycle of a grant in one place so it's easy for anyone involved to access accurate, up-to-date information in a snap.
With grant management system software, grantmakers can find important documents like grant applications, grantee reports, progress updates, and award letters all in one user-friendly program.
This prevents crucial information from getting hung up and lost along the way and ensures every member of the grantmaking team has access to necessary data whenever they need it.
Automated Manual Tasks
One of the biggest benefits of grant management system software is the automation of manual tasks. The software will automatically populate information, fill out forms, send reminders, and collect signatures so that grants managers and foundation staff don't have to do these mundane tasks.
This saves a significant amount of time and streamlines grant processes into a seamless flow of information. Automated tasks remove the step of manual entry, improving the accuracy of all data associated with each grant in the system.
Improved Accuracy
Accuracy is essential when handling grantee applications and dispersing funds to organizations. Grant management system software takes information entered from multiple sources and automatically populates it for grantmakers to see and use.
Automation in data entry significantly improves the accuracy and completeness of the data compiled by the software. By lowering the possibility of human error through manual entry, grantmakers can feel more confident in their data and reporting.
Improved Collaboration
Grant management system software provides a single place for users to track progress and keep tabs on what needs to be done to move forward. Grants managers can see all the tasks on each project, who is responsible for them, and when everything needs to be done.
This improves collaboration among team members who know what they need to do, when they need to do it, and who they should be working with along the way. Grant management system software also includes built-in reminders and notifications to ensure no one is left in the dark and no deadlines are missed.
Up-to-Date Reports
In a grant management system software, grantmakers have access to complete sets of data regarding grants at every stage in the process.
Because information is entered directly into the software, data remains up-to-date so that there's no worry about including old, outdated information in reports. That means every impact assessment is accurate, grantmakers can ensure funds are being used properly, and it's clear that grant progress is on track.
At every stage of the grant lifecycle, grant management system software keeps grantmaking processes on track and streamlined for the ease of everyone involved.
Key Features to Look For in a Grant Management System Software
The best grant management system software offers features that answer foundation pain points and streamline the grant process to make grant management more efficient. These features include automated processes, grant application management, tracking grant progress, and access to real-time insights that prove the effectiveness of each grant.
By putting a grant management system software in place, foundations invest in organizational efficiency, which benefits both the organization and the people who work for it. Here are some essential features to look for in a grant management system software.
Document Management
Grant management system software automatically compiles and manages important documents throughout the grant lifecycle. This makes it quick and easy for anyone involved in the grantmaking process to access necessary documents and information.
The software keeps documentation up-to-date, ensuring things such as grant applications, grantee reports, and award letters are accurate and available around the clock.
Tracking and Reporting
Keep foundation executives, board members, grant managers, and program officers on the same page with tracking and reporting features available in grant management system software. Because grantees can submit applications and reports directly via the software, grantmakers can view and approve them in a timely manner.
Using grant management system software keeps data and reports up-to-date with real-time information as it comes in, significantly saving time and resources.
Relationship Management
A strong relationship between grantmakers and grantees is a cornerstone of effective grantmaking. Grant management system software seamlessly integrates communication between grants managers and grantees into the grantmaking process.
Grant relationship management is an important part of the grant process and is critical for trust-based grantmaking. Grant management system software makes it easier to include grantees in the flow, building trusted relationships between everyone involved.
Real-Time Progress Reports
Grant management system software keeps reports updated in real time. This allows grantmakers to view grant progress, grant activities, and grantee performance at any time to ensure everything is on track and running smoothly.
Staying informed on grant progress allows grantmakers to make important decisions in a timely manner with all of the relevant information available to them.
Choosing the Best Grant Management System Software for Your Foundation
GivingData's best-in-line grantmaking platform is the most comprehensive and user-friendly grant management system software available. Its collaborative tools, intuitive interface, and tracking features streamline the grantmaking process so that everyone involved can focus on making a meaningful impact.
With features that allow you to manage grants, relationships, and knowledge all from one platform, you can reduce administrative burden while building strong relationships with grantees. Contact us today to learn more about our grant management system software and how it can streamline your grant processes across the board.
Sign up for the GivingData Insights Newsletter
Receive actionable insights to streamline your grantmaking processes straight to your inbox.