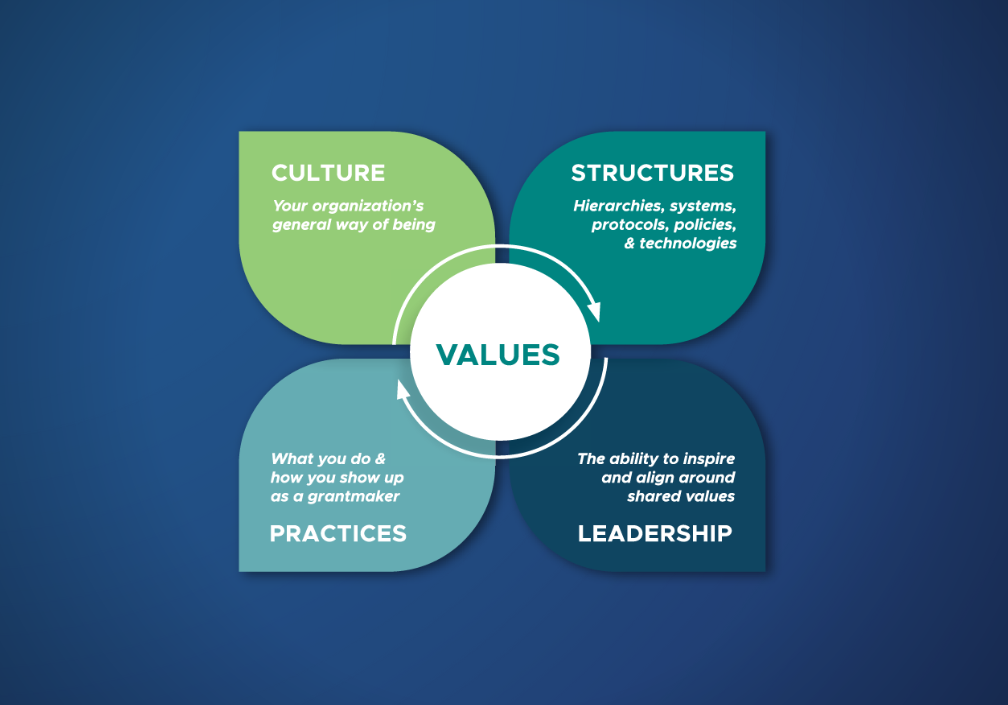 Article
The Past, Present, and Future of Trust-Based Philanthropy
For over three years, the Trust-Based Philanthropy Project has addressed the power imbalances between funders, nonprofits, and communities.
Prominently displayed on their website's homepage is the question: How can philanthropy redistribute power? The answer to that is clearly presented as well: by using a trust-based approach. But the path to achieving that is not always as clear-cut as it may seem, and over the life of this term-limited initiative—which was designed as an awareness campaign with plans to sunset by 2025—Executive Director of the Project, Shaady Salehi, and her team have had to tackle numerous questions and misconceptions about what trust-based philanthropy truly is and how foundations of all sizes can put these values into practice.
Shaady spoke at GivingData's GDConnect conference in 2020 when the Trust-Based Philanthropy Project was still in its early stages. Since then, the Project has continued to increase its impact and relevance within the philanthropic sector. Many of GivingData's clients are deep into their own trust-based journey or are still in the process of implementing it.
On March 2, 2023, Shaady and Roberto Cremonini, SVP of Client Innovation and Impact at GivingData, sat down over Zoom to discuss the history of the movement, major accomplishments and misconceptions, how to look at grantmaking operations with a trust-based lens, and answer questions from a live audience of grantmakers and philanthropic consultants.
Read on to see some of the highlights from this discussion, and click here to watch the full, 60-minute recording of the webinar.
Table of Contents:
What is the Trust-Based Philanthropy Project?
Shaady: I'll start by offering a bit of definition about what trust-based philanthropy is for those who are entering into this conversation for the first time. We define trust-based philanthropy as an approach to giving that addresses the inherent power imbalances that exist between funders, nonprofits, and communities.
The fundamental core value around this is to flip the script on the way traditional philanthropic practices and structures work in a way that really centers nonprofit leaders and communities, and moves away from a place of transaction and control, which are so deeply embedded in so many of our practices and structures, and more toward structures and cultures of relationship, mutual learning, and collaboration. In practice, it includes things like multiyear unrestricted funding, streamlined paperwork, and a focus on building funder-grantee relationships rooted in humility, transparency, and mutual accountability.
The Project was launched in January 2020 as an intentionally term-limited initiative and was created in response to decades of calls from nonprofit leaders urging funders to trust them. Practices like unrestricted funding and streamlined applications have been lifted up by nonprofit leaders for decades as a need in order to alleviate some of the many burdens that are getting in the way of organizations achieving their intended impact.
When we launched the Project, we conceptualized it as a peer-to-peer learning and advocacy campaign to raise awareness, create opportunities for networking, and disseminate tools to spark deeper thinking about the benefits of approaching philanthropy in a more relational way. We gave ourselves five years because we wanted to be realistic about how long it would take to get the concept of trust-based philanthropy on the radar in the sector. It's been pretty overwhelming and wonderful to see that this approach and the phrase has gained a lot of recognition in the sector already. I would say a lot of that is due to the catalytic events of 2020, the convergent crises that our society and our sector had to confront head-on with the pandemic, a racial reckoning, and climate change, and all these things that were happening at the same time and revealing the core inequities that exist in our society.
Trust-based philanthropy is not new for many funders
Shaady: The accomplishments of the initiative that we're proud of include just the general awareness and our ability to respond to the awareness and the inquiries that came about in the early months of our project launch. The fact that we've created some language has invited in many funders and practitioners that just innately get that this is the way to do philanthropy.
Trust-based philanthropy is not new. There are many funders that have believed in these values at the core but didn't necessarily have the language to bring to it. We provided some of that language that created opportunities for funders to come together.
It's been wonderful and exciting to see that now funders are sharing with each other and pushing one another to go deeper in building relationships.
Some of the unexpected things that have come up are that, because trust-based philanthropy is so broad in many ways and has a lot of nuances within it, the phrase has been out long enough that there are many different interpretations of what trust-based philanthropy is. We as a project have had to be responsive to this.
How do we answer the questions that are coming up? How do we address when there's a misperception about trust-based philanthropy as unconditional trust? How do we respond when there's extreme critique about the approach that doesn't necessarily acknowledge some of the deep nuances that we're trying to communicate? It's challenging when we're talking about culture change work, to boil it down into a few sound bites. We continue to be responsive to how the field is responding.
The correlation between trust-based philanthropy and participatory grantmaking
Shaady: I would say trust-based philanthropy and participatory grantmaking have a lot of shared values, especially in sharing power and trusting the vision of people who are more proximate to the issues that we seek to address. One key difference is that participatory grantmaking comes with very specific recommendations on how people with lived experience should inform grantmaking decisions — this often includes having community members or others with lived experience sitting on grant review panels and making the final recommendations.
While trust-based philanthropy and participatory grantmaking can co-exist, you can also do trust-based philanthropy without fully operationalizing participatory grantmaking structures. Similarly, there are participatory grantmaking programs that rely on traditional structures like extensive applications or project-specific grants. There are also tensions that may emerge because when in participatory you have more people making grant decisions, so relationship- and trust-building becomes a little more complicated. I'd also reinforce that neither approach is static; both embrace an ongoing learning mindset to continue to evolve and improve over time.
Common misconceptions about trust-based philanthropy
Shaady: A misperception that I've been hearing a bit is that trust-based philanthropy is not as strategic as the traditional approach of philanthropy. The strategic philanthropy movement is focused on foundation-defined systems change and then finding organizations that fit that foundation's vision. Fundamentally, that's not a terrible thing. However, if that vision for change is not informed by the community, then it can not necessarily be aligned with how change can happen on a particular issue.
The question about whether trust-based philanthropy can work with multi-million dollar investments is a good question. I would argue that if there's an initiative or an effort that a funder has deemed important enough to receive multimillion-dollar funding, then it's perfect grounds for a trust-based relationship because there's an acknowledgment that this issue, the work, the topic, the organization, or the community requires that level of investment. There's fundamentally an understanding that this is big change work and it needs big dollars to support it. So why not put the time and energy into building a trust-based relationship with the organizations leading the work? Why not spend the time learning alongside them rather than using the typical transactional models?
Another common misconception is that trust-based philanthropy is about "no strings attached." We're just going to get to know the work, learn about the work, give an unrestricted investment so that the organization can be responsive to the many variables that are at play, and walk away.
In most contexts, that's not what trust-based philanthropy is about. It's actually about liberating ourselves from some of those transactional processes and creating more opportunities for learning and dialogue. Then when there's an unrestricted investment in the work, that automatically signals to that leader, "Hey, we trust you."
That breaking down of those transactional walls allows for a more transparent relationship and a more authentic ability to learn about the many variables, obstacles, and opportunities that are facing those leaders.
What I'm also hearing in that question might be related to another misperception or a question that comes up around how you assess impact if you're not receiving regular reports or asking nonprofits to demonstrate and quantify their impact.
This does require a bit of a paradigm shift where we actually have to flex different muscles as funders, and we have to connect with and make space for learning conversations where it's inviting the leaders to define how they see impact, and then discovering the barriers they're experiencing. That can reveal a whole new set of factors that can make a funder a more strategic grantmaker. If there are other variables that a grantmaker has not considered, but can deploy resources or other assets in support of, that can actually catalyze greater impact and greater systems change.
We're actually going to be launching a webinar series in April called Demystifying Trust-Based Philanthropy, where we'll dig into many of the frequently asked questions that come up around trust-based philanthropy.
How to look at grantmaking operations with a trust-based lens
Shaady: Grantmaking Operations with a Trust-Based Lens is a guide designed for grants managers, operations staff, and anyone who is tasked with thinking about how a foundation's operations and grantmaking systems are reflective of its values, especially if you're working on trying to better align your operations and your systems with trust-based values and practices.
A few grants managers informed this guide and that's always been how we think about all of our resources. We want to be directly informed by people who've done the work.
The reason we felt motivated to create this is that there is this inquiry we often receive asking us to just provide the checklist to make a grants management system trust-based. It became clear that we needed to address this and explain that your technology isn't going to make you trust-based, but if you think about your technology design through the lens of trust-based values, then that's how to start.
It's just a slight gear shift from the initial question, and so the guide really clarifies some of the limitations of traditional grantmaking operations and structures and then offers some insights and steps into getting clear on values. The whole guide is really centered on this vision of how we can shift our operations that have historically favored the grantmaker to be more centered or more balanced in terms of the grantseekers' experience.
We were delighted that TAG, the Technology Association of Grantmakers, also released a companion guide that is much more focused on functionality tips.
How GivingData integrates trust-based philanthropy practices
Roberto: I'd like to address two questions that came in that are directed to GivingData. The first one is about how GivingData integrates trust-based philanthropy and other equity-based practices in its product and work. The second is about how funders operationalize trust-based philanthropy through GivingData's grants management system.
The best way to describe the alignment between GivingData and trust-based philanthropy is to go back to the origins of our company. GivingData started as a business intelligence tool that would make it easy for funders to access, use, and share their grantmaking data. From the beginning, our focus has been on transparency and data democratization. Our vision was to create a platform that organized and visualized grantmaking data in a way that would help foundation staff see the big picture, identify patterns and trends, generate insights, and ultimately use their data to inform their decisions and be more transparent with their grantees.
In addition, in the same way that trust-based philanthropy asks foundations to put grantees at the center, we always put our users, their work, their needs, and their pain points at the center of our product.. We never built functionality for the sake of building functionality. Instead, we always started our design and development efforts by asking our users, "What is the job that you need to get done? What is hard for you to do today? What do you think would make it easier for you to do your job?" At the beginning, the focus was on foundation staff, but then it shifted to grantees when we built the Grantee Portal, then to the board, and so on. This empathetic — if you will — user-centric approach is what allows us to be so well aligned with the principles and values of equity and trust-based philanthropy, even if we are a technology company rather than a funder.
With regard to the second question, there's a blog we published recently that offers some examples of how foundations are implementing trust-based philanthropy using GivingData and specifically how the system has helped them work in a trust-based way.
One of the things that plays in your favor is our ability to visualize information. For instance, being able to show if a Program Officer had a conversation with a grantee or a potential grantee at a certain point in time and see that visualized on a timeline that demonstrates how the relationship with that grantee has evolved (or not) over time is very powerful.
And a story that we often hear is that of a new staff member who says "I just started working with this grantee and it was so easy for me to look at the GivingData Interactions timeline to understand the whole history of our relationship with their organization. I can go back to the very beginning, when the grantee first approached us years ago, and follow all of the key interactions like site visits, phone calls, emails exchanged, and grants right there in a single chart."
Showing up at your first conversation with a long-time grantee with that knowledge and understanding of the relationship, helps you connect and build trust pretty quickly.
Shaady: I appreciate all of that, Roberto, because I wanted to lift up the important role of technology vendors in this movement. These changes haven't happened solely because of the fact that the Trust-Based Philanthropy Project is doing what we're doing. It's been possible because many of the players that have an investment in this work are rising to the call and thinking about ways to be more grantee-centric and collaborative.
I want to really acknowledge the importance of that because if we're talking about longer-term culture change, it requires all of us to be thinking about what we can do to evolve that. I really appreciate that GivingData continues to think about functionality and respond to actual grant managers in terms of what they need in order to advance their vision for trust-based philanthropy.
The future of the Trust-Based Philanthropy Project
Shaady: As a term-limited initiative, we often get this question of "Why five years? Why wind down?"
I want to be clear that the movement's not going away and we feel a tremendous sense of responsibility about how we as a Project support the next iteration of the movement. When the Project was launched, we didn't want our work to exist in a vacuum – and we were aware that there were already many great philanthropic serving organizations working toward similar goals to shift the culture of philanthropy. So we created a term-limited campaign – with the vision of collaborating with philanthropic serving organizations to create opportunities for awareness and peer learning in spaces where funders were already convening.
So we set up our Project under the umbrella of a fiscal sponsor and had a plan to bring together a few consultants and funder-advocates to do this advocacy work together. What's been interesting to see is that the awareness and demand came a lot more quickly than we expected, and it has continued to grow.
With that, we had to respond to the moment, and staffed up and expanded our offerings given the demands of the field. We shifted from a handful of part-time consultants to a team of full-time staff.
Our big priority will be supporting organizations that are convening their members and funders to have the tools to continue forward. What you're sharing, Roberto, about how you've established GivingData's platform to be more facilitative of trust-based relationships just goes to show that we're in a greater ecosystem.
We're also hearing from many who fundamentally believe in trust-based philanthropy, but they need tips and talking points about how to actually engage colleagues that maybe don't understand it or have really hard questions that they're asking. We're going to prioritize that and create tools and resources that are responsive to what people need in order to make the case internally.
While we develop tools to respond to the needs, we're also going to be taking a hard look at what gaps we anticipate leaving behind when the Project winds down. Our Steering Committee and I will be working on clarifying additional interventions and activities that we will need to set in motion in order to sustain this movement. We will be sharing more as our plans come together, especially since we see our extended network as key players in the future of trust-based philanthropy.
In the meantime, we're continuing to be responsive to what we're hearing from the field in terms of what will be needed to sustain the movement. If you have feedback, please reach out to us at trustbasedphilanthropy.org.
Roberto: What can we, as vendors and consultants, do to continue supporting your work over the next two years?
Shaady: Listening to grants managers about what they're trying to accomplish. If you're a technology vendor or consultant, those are really important conversations.
Also, if you innately know that someone says something about trust-based philanthropy that just feels off, find opportunities to address them. If you're not quite sure how to address it, just send them to our website because we are actively putting out tools and language to help deepen the understanding of this very nuanced, very rigorous, very dynamic practice and approach. We're all in this together.