Blog
Top GMS Features Grantmakers Are Looking for in 2023
More than a decade ago, GivingData was built hand-in-hand with grantmakers who needed better technology to help them do their work. We continue to rely on real-world grantmaking use cases to evolve and improve GivingData, and recently worked with 1892 Consulting at our annual community event, GDConnect 2022, to learn more about what features and tools grantmakers are excited to use.
GDConnect: A space for ideation and collaboration
With GDConnect 2022 being our first in-person meeting in three years, we were thrilled to see so many members of the grantmaking community interact in one space, sharing ideas and ways to further improve their grantmaking.
We all know how powerful philanthropy can be when like-minded individuals work together focusing on a common goal, so it was no surprise that the session facilitated by Rebecca Van Sickle and Veronika Knierem from 1892 Consulting generated so many ideas to improve grantmaking processes and help us continue to build tools that strengthen how grantmakers work.
Using a crowdsourcing method from Liberating Structures, Rebecca and Veronika asked participants to write on a note card which feature they would most like to see in their grants management system (GMS) and then pass their cards around to allow other people to rate ideas.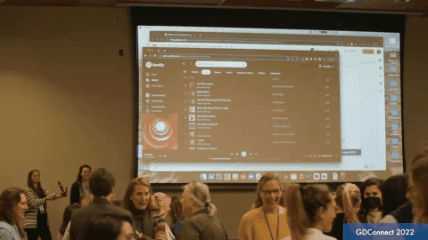 GDConnect 2022 attendees participated in a collaborative session that allowed them to share their ideas.
At the end of the activity, we were left with a prioritized list of the features that grantmakers in the room would love to see in their GMS.
What features were grantmakers at GDConnect 2022 asking for?
As these ideas were gathered and scores were calculated, there was a clear theme emerging in the features that received the most votes: improving efficiency and saving time. Here are some of the features that were discussed during the session:
1. Increase functionality from third-party integrations
It's no surprise that integrations with other programs that grantmakers use every day are top of mind for anyone using a grants management system on a regular basis. Oftentimes it's necessary to combine at least a couple of different tools to perform a single grantmaking task, whether that be virtually signing agreements with grantees or putting data into tools that provide additional flexibility (i.e. Excel).
Last year, we added many integrations to the GivingData platform: the addition of Google Drive and Dropbox integrations, as well as an improvement to our integration with DocuSign.
A couple of the most popular requests that were presented during the session were additions to the Microsoft Word integration that include improvements to templates so that all fields from the database are readily available, along with the ability to export all types of data into Excel - including M&A, MEL, and Interactions with key constituencies.
2. Expand reporting of trends and comparisons
This request actually closely relates to #1. At the end of the day, every grantmaker prefers to do as much work in just one system as possible. Sometimes working outside of the grants management system is necessary, but when a report can be created just as well or better within the system itself, it saves a lot of time that could be better spent using the data and improving the foundation's impact.
A use case that was mentioned during the session was from a mature foundation, that recently reported on trends across the foundation to the Board, but needed to use Excel in a few instances to track year-over-year trends. Another potential use of more internal reporting would be for foundations that recently implemented more trust-based philanthropy practices and want to evaluate the improvements made to grantee relationships and reducing grantee burden.
The discussion confirmed that foundations were able to do a good amount of their reporting inside GivingData, and last year's launch of Chart View allows users to create charts from search results, which has made it possible to add visualizations to reports without the need to export data to other tools.
3. Reduce repeat work with the ability to clone records and copy workflows
This request was fairly straightforward, as no one in any position wants to be required to perform repetitive tasks on even a semi-regular basis. This sentiment was expressed by a few grantmakers who wished to be able to clone more records and copy workflows more easily throughout their system.
One use case came from a foundation that conducts a lot of strategic grantmaking, which requires that the payments, requirements for that payment, documents, etc. be repeated across records. More automation and cloning would save time, reduce oversights and user errors, and allow grantmakers to focus on more strategic activities.
As a grants management solution provider, this is always top of mind for us, as we never want grantmakers to be required to perform the same task multiple times if it's unnecessary.
4. Access to more information from a single page (for staff and grantees)
It's clear that with any platform you access on a daily basis, there are times when it's just plain tedious to click around to get to a page or report that you have to access regularly. Sure, you can bookmark those pages, but a streamlined experience requires an effective way to seamlessly move between relevant pages and reports with fewer clicks.
One idea that was brought up during the session was the ability to see the grant application side-by-side with the grant review screen. Along with that, the ability for grantees to see all of their request documents directly within the Grantee Portal.
Again, it was clear that many of these requests and features grantmakers would be excited to use revolve around the need to streamline processes and reduce time. This last request in particular includes ideas to also reduce grantee burden and streamline their processes, which is something we at GivingData are always focused on as a software built with trust-based philanthropy in mind.
Looking ahead in 2023
GivingData's plans for 2023 include the launch of many features that address these requests. Included in this is the batch processing of unsolicited applications, which will greatly streamline the process of intaking a high-volume of applications. Another highlight is a suite of new features aimed at supporting our growing base of international clients, including the expansion of options for multi-currency settings. Coming out very soon is a new native document storage option that eliminates the need for GivingData users to configure OneDrive, Box, or other document management systems. Users of this document storage option will also be able to create document templates using word merge fields.
"Our user base has always been a source of inspiration for the new features and functionality we add to GivingData," says Director of Product Management, Eric Jones. "At GDConnect this past year, we placed special emphasis on creating space for grantmakers to provide direct input into some of the features we are planning for 2023."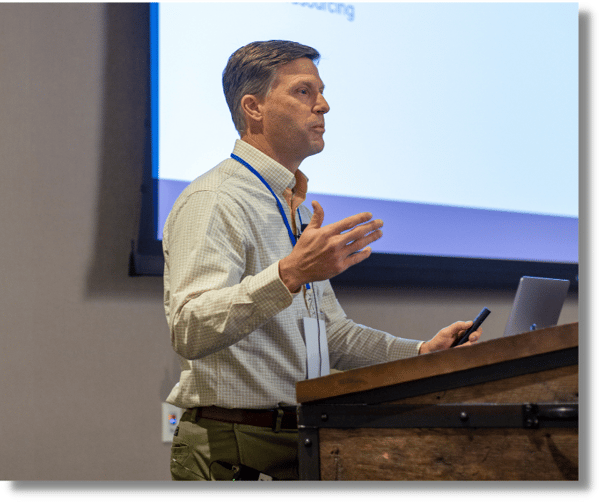 Director of Product Management, Eric Jones, presenting at GDConnect 2022.
We also recently launched a redesigned homepage that streamlines a lot of the most common grant management tasks by making them accessible from the home screen. Watch our video demonstration here.
As we look towards the year ahead, our team continues to be encouraged and inspired by the enthusiasm displayed by our user community both at GDConnect and, more recently, in our new online community space, where grantmakers offer each other support and advice. We've seen an incredible response rate, with over 150 requests for help being resolved by community members in just over a month. Once again we see how eager our users are to voice their ideas and work with one another to become more effective and impactful grantmakers.
If you're interested in staying up to date on all the latest updates to GivingData's platform, subscribe to our newsletter or keep an eye out for any upcoming webinars.
Sign up for the GivingData Insights Newsletter
Receive actionable insights to streamline your grantmaking processes straight to your inbox.